It's Good to Have Friends in High Places!
Mood:
happy
Topic: Compassion International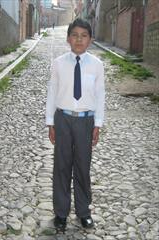 Take a look at the boy above! That's our sponsored child, Marcelo. That's from the photo taken to update his Compassion profile. They take a new picture every two years and send a copy to their sponsors. We received that one a few months ago. This past summer our friend Kees, a compassion advocate, spent a couple of months in Bolivia working with Compassion. He was able to travel and visit a lot of the centers where the Compassions kids go on a weekly basis. Including the one where Marcelo goes. He wrote to me recently to tell me that he was able to talk with Marcelo for a little while and take some pictures of him AND get a video of him! We were so excited. Kees called me on the phone a few days ago to tell me that he had left Bolivia and to be looking for the photo of Marcelo in the next few days. I asked him where he was and he said HOLLAND! It's not every day that you talk for a half an hour to someone in Holland! He was visiting family and friends there (that's his home country) before flying back to the U.S. Unfortunately, since things are a little different in Holland than the U.S., he won't be able to send the video to us until he gets home to Florida. We can't wait to see it. I wanted to share the new photo with you now though. Remember, Bolivia is south of the equator and the seasons are opposite there so it is winter right now - hence the coat and scarf. In fact, La Paz, where Marcelo is from, is one of the coldest spots in Bolivia. There is much sickness, especially in the poorer areas like Marcelo's, since many houses, including the one Marcelo lives in, do not have heat. Please pray that they will stay warm and not become too ill. And thanks for praying for all of our kids - Marcelo from Bolivia is the one that we actually financially sponsor and we have four correspondence kids that we don't sponsor financially, but we are the ones who send letters to them, encourage them, and mentor them. Their names and countries are Feyber - Colombia, Somi - Indonesia, Emmanuel - Tanzania, and Ismael - Nicaragua.