Lockrobots - A Well Kept Secret
Mood:
a-ok
Topic: Homeschool Product Review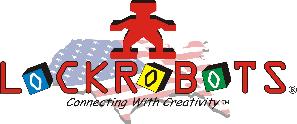 I've written before about our experience at our first ever homeschool convention in Cincinnati last spring. John Allen came with me every day and we had blast! One of the neatest things about any homeschool convention are all of the vendor booths that are set up. There were dozens and dozens of vendors. Some were vendors that the homeschool crew had the privilege to work with last year. We had a fun time getting to know them and talking with them face to face about their great products. Other vendors were new to us but were equally as nice.
One product that was brand new to us was Lockrobots. Their super nice guys had a booth set up with lockrobots for the kids to play with. John Allen was so enthralled by the Lockrobots and the booth workers (which ended up being the inventor and educational consultant Mike Teel and Dan Olson) that he visited their stand over and over again. In fact, if we ever got separated, we had a standing agreement that we would meet at the Lockrobot booth. During our time at the convention John Allen learned how to make every model that they had and he even invented a few things of his own. Mike and Dan were so nice to John Allen that they ended up giving him a free set at the end of the convention.
I, in turn, was so impressed with Lockrobots that I decided to write a review of them on my blog - not because John Allen was given a free set, mind you, but because I really do like the product. Lockrobots are so much more than a toy, they are super educational as well. But, before I tell you more about them, John Allen wrote a review of them himself:
Lockrobots are a connection kind of toy that are shaped like a person. I saw their booth a the home school convention and totally fell in love with them!! You can create many things with them like an elephant, giraffe, plane, helicopter, and many more!! there are 4 ways to lock them together. See if you can find all 4!! They are also very good for homeschooling, and therapy. They have 4 different sized cases, a 15 Lockrobot case, for toddlers, a 30 Lockrobot case, for a little more experienced builders, a 70 Lockrobot case, for advanced builders, and a 150 Lockrobot case, for master builders. This person shaped toy is fun for kids of all ages, and their parents too!!

One of the great "extras" of Lockrobots is their website. They have instructions for all kinds of neat structures that you can build with them. They also have directions for some fun family games that you can play with them as well as two great educational pages that talk about using Lockrobots in homeschool or in a classroom. It's amazing how you can incorporate them in whatever you are learning. Just the other day Joshua and I used them to talk about cause and effect. This is truly a toy that is an all around toy. It's fun to play with on its own, and a great learning tool as well.
Lockrobots range in price from $11 for the 15 piece set to $69 for the 150 piece set. Each set comes in a bucket or storage box and comes with instructions. To find out more about this great product, just click here or on any one of the hi-lighted links above. Have fun!
I wrote this review because of my impression of the Lockrobot product. No compensation was given and, although my son was given a free set, it was not done as a payment to write this review. Everything said in this review is a direct reflection of how I feel about this product.