Men's Monday Meme - Dealing with the Death of a Loved One
Mood:
not sure
Topic: Men's Monday Meme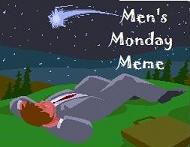 I got a call from my sister this evening. Mom isn't doing well. She's been in the hospital for a really bad infection since last Friday. Her vital signs are good, and she's on antibiotics, but all she does is sleep, and she isn't eating. All she had today was a cup of yogurt and half of some type of a protein shake that they had fixed for her. My sister is worried because Mom is on medicaid and and if she is out of the nursing home for ten days they may not save her room. She's going to talk to the doctor in the morning to see what he says. Mom may go back to the nursing home and be put on hospice.
I've never been the type of person where I have to say my "goodbyes" to someone. Mom probably wouldn't know me anyway. I would rather remember someone the way that they were. But, at the same time, I don't want my sister to have to make all of the decisions herself. I'm torn. Should I go up now or wait. I guess I'll wait to find out what the doctor says in the morning.
I hate these type things. I was never really good at handling them. I want to be strong on the outside and the inside, but it is hard for me. So, my question this week is:
How do you fellow men deal with things like this? What are your secrets? Is it okay to be weak sometimes?
Okay, now that I've let all that out, here are the rules:
This is a man's meme, so the answers must be the answers from a man. Either the man can answer on his blog, or a wife can interview her husband for her blog. However, if the wife puts it on her blog, she must stay true to what her husband said.

You are encouraged to put a Men's Monday Meme button on your blog. Just copy and paste the button at the top of this post. The more folks who link, the more readers you may have to visit your blog.
You may answer the question any time during the week up through next Monday. After you answer the question, add the address to your post to the Mr. Linky below. If you could, please only add the direct link to the post to make it easier for readers to find the entry.
My answer (if I remember to post it ) along with a new question will be posted next Monday. The new Mr. Linky will be added at midnight Monday night or sometime within the next couple of days after that .
And here is the new Mr. Linky: