Men's Monday Meme - School Days, School Days, Dear Old Golden Rule Days!
Mood:
happy
Topic: Men's Monday Meme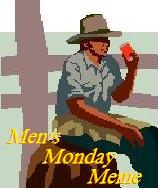 Well it was back to homeschool day at the Tinkel house and boy was it a busy one. I really thought that I was ready, but to my dismay I was not. It was almost as if I hadn't spent the last couple of weeks ordering and researching and registering and making lists and looking over books and...and...and...! I shudder to think of what today might have been like if I hadn't done all of that. Instead, I got up extra early and began to check to make sure I had everything. I knew I had a few things that needed to be printed out but...100 pages later I was ready to start. So, I put everything in nice neat files and began to divvy it all out. I had a the basic lesson plans written down and thought that I had everything ready when...three hours later I finally put the final touches on their first day assignments.
So, we finally got started after lunch. By this time all of the boy's neighborhood friends had been at our door wondering when the boys would be done with their work for the day only to find out that we had barely started. The public schools begin tomorrow therefore we thankfully won't have that to worry about anymore until fall break.
I keep telling myself that the first day is always the worst and that things will get better after we get into a routine. Deep down I know that is true. It's always that way on the first day of school. It doesn't matter if it's public, private or home school and it's the same for teachers and students. The first day is always the most difficult.
It takes me back to my school days. I remember clearly the nerves that I felt thinking about a new grade and a new teacher. And, of course, the switch between elementary school and middle school and between middle school and high school were especially strenuous. Still, I have many fond memories of my school days. Which brings me to this week's meme question:
What are your favorite memories from school? It could be a teacher, a subject, a friend. It could be a special accomplishment or a humorous event. It may have happened in a public or private school, or at a homeschool co-op. It really doesn't matter. Just talk about your favorite school memory. Have fun recollecting!
Here are the rules to the meme:
This is a man's meme, so the answers must be the answers from a man. Either the man can answer on his blog, or a wife can interview her husband for her blog. However, if the wife puts it on her blog, she must stay true to what her husband said.
You are encouraged to put one of the Men's Monday Meme buttons found to the left on your blog. Just copy the code below the button of your choice. The more folks who link, the more readers you may have to visit your blog.
You may answer the question any time during the week up through next Monday. After you answer the question, add the address to your post to the Mr.Linky below. If you could, please only add the direct link to the post to make it easier for readers to find the entry.
My answer along with a new question will be posted next Monday. The new Mr. Linky will be added at midnight Monday night or sometime within the next couple of days after that .
And Here's the Mr. Linky: