I'd Like to Thank All of the Little People!
Mood:
a-ok
Topic: General
I've been given another award! And, I haven't even officially told you about the last award! I'm way behind, and I'm not going to be able to officially tell you all about them even tonight. Life is driving me crazy these days and I feel like I am so behind. Which, is one big reason why I so appreciate these little pick-me-up awards that these great folks are giving me. I promise I will cover both awards later this week so keep watching. Anyway, this award is the...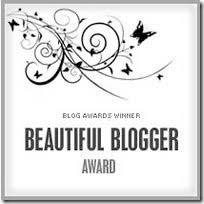 And it was given to me by a great blogging friend of mine Jennifer at Creative Learners. Please click on her blog address and leave her a comment as a thank you for me. You'll be doing me a favor and checking out a great blog all at once!