Sorry. I'm just a little down this evening.
Mood:
down
Topic: The Kids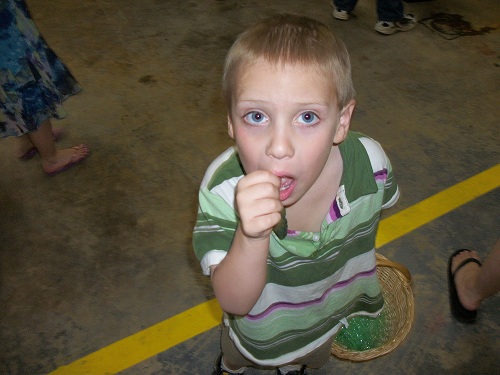 We came in last night and found out that the doctor from Vanderbilt had called yesterday morning to talk to us about Jacob's genetic testing results. By the time we got the message it was too late to call. We got up early this morning only to find out she was in clinicals all day. Finally she called around four this afternoon.
It seems that the testing came back that a part of Jacob's ninth chromosome is missing and that there was an increased level of amino acids. She told us that this was not her specialty, and she was sending us to another genetic specialist that could explain it better and answer our questions. She explained that they would probably want to do genetic testing on Sarah and I as well and that they would call next week to set up an appointment.
So, we continue to wait with mixed emotions. The "I want an answer now" side of me has been searching on the computer trying to figure out what it could all mean. The search has fluctuated between really scary and not quite as scary but still not fun. I really don't know what to think. All I know is that there is something wrong with my little boy and it doesn't look like it's going to be an easy fix. I'm scared and I hurt and I just want it to go away.
I'm fighting the urge to not yell at God and ask "Why? Why again!" When Jacob was born we thought that perhaps we were finally going to have a regular, normal, child. It's not that we don't love John Allen or Joshua, but we have seen what cancer did to John Allen, and what being on the autism spectrum has done to Joshua. We just wanted a child who didn't have to suffer. We wanted a child who didn't have to worry about only having one eye and having no depth perception. We desired a child who wouldn't have problems with social skills. Who wouldn't do something not normal and then cry because he doesn't understand why his friends are rejecting him. We just wanted a normal child.
Now, however, we know that we don't have a normal child and we hurt for him. We have been down this path before I guess, but that doesn't make it any easier on us or on our family.
And so we wait. We wait on yet another phone call and another doctor's visit. We search the internet for answers when we really shouldn't because it really does no good. We blame ourselves even though we don't know why. We cry. And we wait. I hate waiting. I hate seeing my child in pain. I hate feeling helpless. I hate getting mad at God. I hate feeling empty inside. I hate snapping at people because I'm stressed.
I just hate the whole thing. But I know that I have to go through it. For my child, for my family and for myself. I'm not really mad at God. God is my hope and my salvation. I hope soon that we can get back to normal - whatever normal is. Until then, please pray for us and for our family. We'll be OK. It's just one of those days. I'm just feeling a little down this evening.