Men's Monday Meme - Dealing with Stress
Mood:
a-ok
Topic: Men's Monday Meme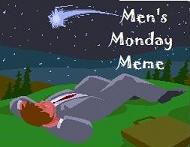 If you read yesterday's post, you will know that we are going through a difficult time with our youngest son, Jacob. I am feeling much better today after sleeping on it, so I'm not as down as I was when I wrote it. That, however, led me to this weeks Men's Monday Meme topic - how to deal with stress.
It would seem that with all of the things that we have gone through with our family, John Allen's cancer, Joshua's autism and now this, that I would be used to the stress. But, I'm not. I may not be as bad as I used to be, but I still get stressed out. As most of you know, just plain old raising kids is hard, let alone having medical problems with the kids. Add that to ministry, jobs (our job just happens to be our ministry but for many folks it's two different things) and just plain old day to day life, and it ends up being very stressful.
So, here's the question(s) for this week.
How do you deal with stress? Is there really a good way to do it? Is there a Biblical way? Is there a medical way?
Let's get a discussion going! If you know me by now, you know that I am forever late in not getting a new question up. Although it is called the Men's Monday Meme, I usual don't end up posting a new question until mid to late week (or week end as today), so I will give you a few extra days to answer. I won't change the question until Thursday or Friday of next week.
Let me recap the rules:
This is a man's meme, so the answers must be the answers from a man. Either the man can answer on his blog, or a wife can interview her husband for her blog. However, if the wife puts it on her blog, she must stay true to what her husband said.
You are encouraged to put one of the Men's Monday Meme buttons found to the left on your blog. Just copy the code below the button of your choice. The more folks who link, the more readers you may have to visit your blog.
You may answer the question any time during the week up through next Monday. After you answer the question, add the address to your post to the Mr.Linky below. If you could, please only add the direct link to the post to make it easier for readers to find the entry.
My answer along with a new question will be posted next Monday. The new Mr. Linky will be added at midnight Monday night or sometime within the next couple of days after that .
And here's the new Mr. Linky: