We've Up and Done it Again!
Mood:
happy
Topic: Compassion International
Yep! Call us crazy, but we've up and done it again!
The other day I was talking to Sarah and said, "Can we afford to sponsor another Compassion child?". Her response was, "If you go out and raise some support then we can." I thought for a minute and then replied "Can we at least have another correspondence child?". Well, needless to say she agreed with that, so I made a call to Compassion to be put on the waiting list for a correspondence child.
A correspondence child is a Compassion International child who is sponsored, but has no one that is writing to them. Often a company will just donate a block of money to sponsor so many kids, but they don't want to take on the responsibility of writing to those children. Or, an individual may want to sponsor but is unable for some reason to write to that child. That's where correspondence sponsors come in. Writing is a big part of Compassion International's plan. Many times the sponsor is the only one that expresses their love to that child, or who is a Christian mentor to that child.
Usually it takes a couple weeks to a few months for a person to get a Correspondence child, so I wasn't expecting a child yet. However, when I checked my account on the Compassion website today, lo and behold, Ismael was there!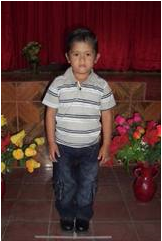 Ismael Jose Arias Narvaez to be exact! He is five years old and is from Nicaragua. God knew what he was doing. We have Marcelo (Bolivia) and Feyber (Colombia) who are about John Allen's age, Somi (Indonesia) who is Joshua's age, Emmanuel (18 from Tanzania) who is like an older brother to the boys, and now Ismael who is around Jacob's age.
We are so excited to have another Compassion International son. Whenever we get one, the boys always crowd around the computer to see their new brothers picture and hear all about them. Ismael lives with his grandparents. His grandfather works but the grandmother does not. The average monthly income in Nicaragua is just $86 a month! Can you imagine?
Please pray with us as we begin to write to little Ismael. Pray that if he is not a Christian, that somehow through our letters and the work of Compassion he will learn about the Lord. And, while you're saying a prayer, pray that we can raise more support so that we can better help the folks that we work with at Good News Mission, and perhaps even sponsor another child

.