We're off on another field trip for Field Trip Friday!
Mood:
a-ok
Topic: Blog Carnivals!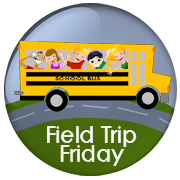 Our family has been blessed to have been able to go to a lot of great places. We have driven the Blue Ridge Parkway and stopped at many of the wonderful places along the way. We have toured the battlefields of Gettysburg and experienced Amish country in Pennsylvania. We've gone to museums, lighthouses, botanical gardens, zoos, historical places, national parks...we love to travel and see new things. Some of the neatest adventures that we have been on, however, have been adventures that we haven't even sought out. They are off the radar, unusual places. This week on Field Trip Friday I'm spotlighting and adventure that we have been on once before. Others have posted links to great places that they have seen. Join the fun by clicking here or on the banner above. Then, dream of the things that you and your family can experience this summer by reading the different posts. Have fun!