Tomorrow's the First Day & Shhhh! Don't tell Angelfire!
Mood:
a-ok
Topic: Bible Reading & Devotions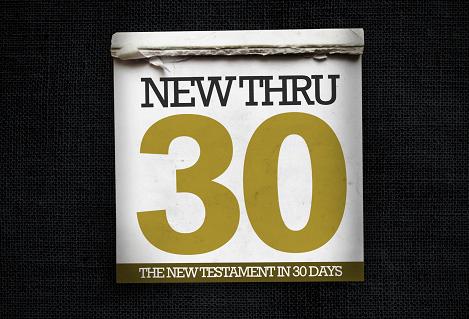 Tomorrow's it! It's the first day of the New Thru 30 Challenge! Are you ready. Some of you may have already started. Really, if you have been using the plan, you know that it officially started yesterday, but the first day of reading is tomorrow. But, I decided to get a head start, and I read the first day today so I could have a full day to think and pray about it before I blog about it.

Now comes the "Shhhh! Don't tell Angelfire" part. I've begun a new blog! In fact, the above picture is the header for my new blog. I'm not quite sure what I'm going to do with it yet, but it's started. Angelfire has been great to me, and I probably will never completely leave it, but I have been having some technical problems with it lately. If you have noticed, I haven't added any links on the left for quite a while. That's because for some reason the blog platform won't let me. The place where I go to add the links etc. is all messed up. I don't know if it is Angelfire's fault or my fault, but even after contact with Angelfire, it still isn't working. That's one of the biggest reasons for starting the new blog. It isn't all the way up yet, but I am going to start out by posting my thoughts from New Thru 30 on it. We'll see where it goes from there. I would love for you to visit me over there as well. The address is http://familiesagain.blogspot.com/ . Please come over and visit! At least for a little while, I will be posting a link here every time I post something new there (did that just make since?). For right now, unless I say otherwise, this will be my main blog and I will point you over there when I post something new. When you visit the new blog, you'll see that I should have posted a "Pardon Our Dust" sign because it is still "in the works", but thanks ahead of time for visiting and being faithful readers.