Ministry Focus - Our Ministry - Good News Mission
Mood:
a-ok
Topic: Ministry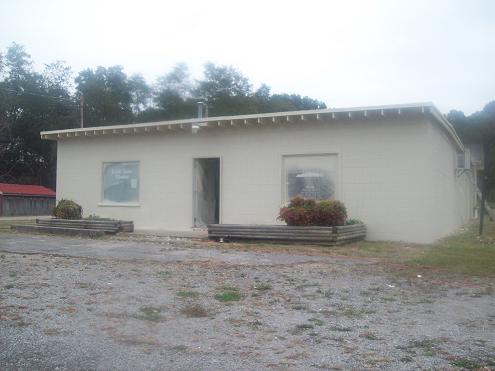 The mission getting a new paint job this past October!
Part One ~ How It All Began!
Although I realize that this blog is much more than a ministry blog, I realized that unless you read our prayer letters, you don't necessarily know what we do here at Good News Mission.
Good News Mission was started about 12 years ago when two couples felt that the Lord was calling them to begin a ministry to the low income housing folks that live in our small town. They heard that an old "mom and pop" grocery store with a house attached was going up for auction right across the street from the housing authority office so that went to a local doctor and asked if he would be willing to bid on it. He agreed, won the bid, and the ministry began in the attached house until the store front could be remodeled.
Sarah and I began helping them out about six months after they opened. At that time the ministry consisted of a breakfast on Sunday morning followed by a Bible Study. Usually the kids and adults were seperated into age groups. They also began a clothes closet in the basement that was opened before and after the meal and Bible study. Sarah and I soon began a Kid's Bible Club on Tuesday Evenings to compliment the Sunday morning studies.
After about two years, the store front was finally remodeled enough for the services to be moved into it, and the ministry was large enough to need a full time director. Sarah and I had been working as full time missionaries working at Cedar Lake Camp, but the time was right for us to leave serving at that ministry and begin working full time at Good News Mission.
~To be continued next week with ~ Good News Mission Over the Years.