Thursday's Child - Our Own Marcello
Mood:
a-ok
Topic: Compassion International
This past year has been an amazing year. One of the things that has been so amazing is how many high school and college classmates I have reconnected with. Kees Boer was one of those classmates. The only thing is, I didn't go to school with him! Although Kees went to the same college as I did, he graduated a few years before me but he's the type of person who likes to make friends with everyone. He has turned out to be a great one. In one of our first chats he revealed that he was an advocate for Compassion International. I was curious so I asked him about it. After some discussion he mentioned that he was looking for a sponsor for a 12 year old boy from Bolivia. It seems that this boy had a sponsor, but for some reason that sponsor had to drop out of the program. He asked if I would be interested and he sent me this: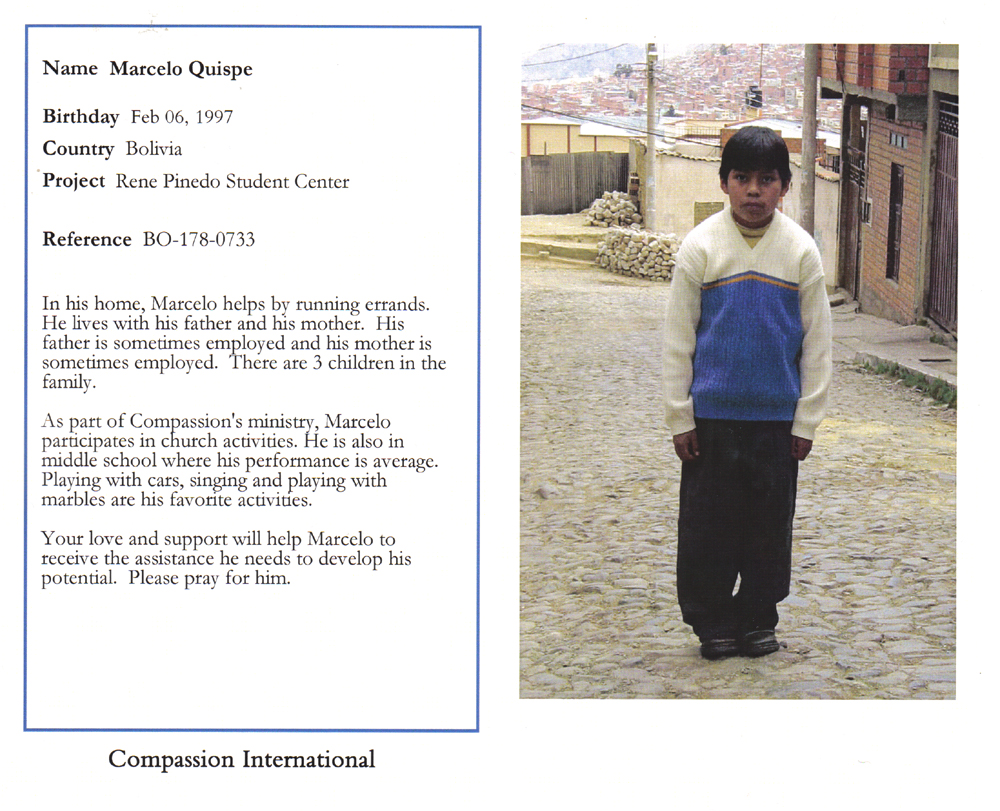 I said that I would pray about it and talk it over with my wife, but really it was love at first sight. There was something that just drew both Sarah and I too him, so a couple of days later we told Kees that we would sponsor him.
That was the beginning of a great relationship. My whole family loves Marcelo. We write to him weekly, and we have begun to get letters from him as well. Recently he wrote this letter (copied here the same way that we recieved it):
Dear Tim and Sarah and Family,

Hello, I greet all of you very hearty wishing that all of you find well of health. I thank you very much for the letter that you sent me, I am very happy that you write me. Here in school we will soon end our second trimester studies and now I have a lot of work practices to do. I hope that in the United States John Allen and Joshua are doing well in their studies. In the Student Center I learn more of our God's word and of our Jesus' live. I love to be in the Student Center. We are lately learning the book of Revelations. I like the Bolivian history more than the world's history. I don't have drawing classes (in our first letter he had drawn a beautiful picture for us, so we had asked him about art lessons) but I like to draw a lot. When I have time I like to draw animals or people. I know that one of these days we will meet by our God's grace. I will continue praying for all of you. I dismiss with lots of hugs wishing that our Lord blesses you a lot, loves you very much.

Marcelo
In a more recent letter, he said "Please don't stop writing to me." I wrote back and assured him that we wouldn't. Our kids have grown to love Marcelo and we pray for him every day. God has blessed us and I know that our financial support has helped Marcelo and his family. More importantly, though, our letters to each other have been a mutual blessing. Kees says that the letters are almost more beneficial than the money that we send each month. These children crave love and acceptance. It is not difficulty at all to love and accept Marcelo.
Over Christmas, Compassion International had a program called "Christmas Child". We recieved the profile of another child who was in need of a sponsor. We were to pray over that child for the month of December and try to find a sponsor for them. We recieved the profile of a little girl by the name of Mwemde Mumbe from Kenya and have prayed faithfully for her. We have also talked to people and sent out information on Facebook, Twitter and my blog, but no one has stepped forward to sponsor her. Next week, I am going to write about her in my Thursday's Child segment, but until then won't you pray about supporting her. If you would like, I can send you a profile of her. Sending the profile will not obligate you to sponsor her, it is just a little more information that you can pray over. Nothing would thrill me more than to have to come up with another topic next week because a sponsor for Mwende had been found. If you would like more information on Compassion International, just click on one of the hi-lighted links above. If you would like more information on Mwende, please email me at tink38570@yahoo.com and I can either email or snail mail her profile to you. Believe me, if you sponsor a child with Compassion International, you will not regret it!