Tuesday Toolbox
Mood:
energetic
Topic: Blog Carnivals!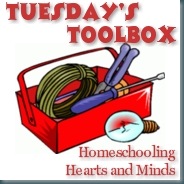 It's my weekly Tuesday Toolbox post, and I can guarantee it is like nothing else I have ever posted. Watch the movie first, then I'll explain

!
I found this on another blog today and immediately thought it would be a great homeschooling tool. Since most people now days have a computer in the home, and since www.xtranormal.com is free, then I figured it would be great for this week's Tuesday's Toolbox. It is easy to use and is a real hoot! Have fun everyone.