Thursday's Child - Steven Van Kranenburg Meets His Sponsored Child
Mood:
happy
Topic: Compassion International
Recently my friend Kees sent me a video of Steven Van Kranenburg, a Christian worship leader, meeting his sponsored child for the first time. It is a very touching video that I think exemplifies what Compassion International is all about. Here it is: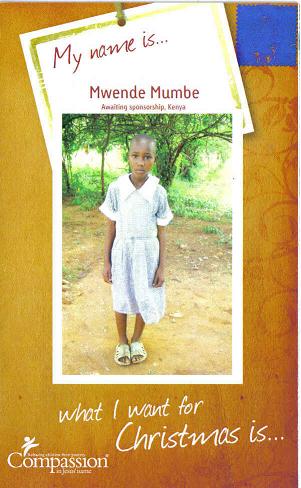 I also wanted to give you an update on Mwende Mumbe, our Christmas Child. As of the writing of this post, we still have not found a sponsor for her, but Compassion has given us until the end of January to find a sponsor before our Christmas Child's portfolio goes back into the hands of Compassion International to continue to try to find a sponsor. Although I know that God has a specific sponsor for Mwende, and that she will be sponsored in His timing, nothing would thrill me more than to be the one to find the sponsor for her. Would you please continue to pray for Mwende? Pray even for your possible role in sponsoring Mwende or another child. Remember, I have several copies of her portfolio that I could send to you if you request it. Sending the portfolio would not obligate you to sponsor her, it would just give you more information about her so that you can pray more specifically. Here is the link to my previous post about Mwende. If you feel that God is leading you to perhaps sponsor her, or if you would like for me to send you the portfolio, please leave me a comment below or you can email me at tink38570@yahoo.com. Thanks for your continued prayers.