Thursday's Child - The Disaster In Haiti
Mood:
sad
Topic: Compassion International
I blogged a few days ago about my first reaction after watching reports of the disaster in Haiti. It really made me think about my family, my ministry, my friends, and my family's Compassion International child, Marcelo. Today, I watched a heart wrenching video from Wess Stafford, the President of Compassion International, talking about Haiti and it's workers there. Here it is:
Click here or on the banner below to send donations to Compassion International for the Haiti Fund.
I have also been in contact with our mission BCM International. They also have a fund for the Haitian disaster. You can reach it by clicking here or on their banner below. It will take you to the BCM donation page. To donate, just click the box by the word "project", and simply type the word Haiti in the box by "project name" then follow the instructions. BCM has assured me that 100% of all donations designated for Haiti will reach Haiti. I am sure that is probably the case with Compassion International as well, but to be sure, please read their donation page carefully or contact them personally.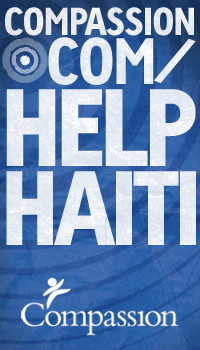 But, please, whether you are able to donate or not, please pray for the people of Haiti. Pray for the Christian workers from BCM International that are there and for the workers from other organizations like Compassion International. We may not all be able to donate financially, but we can all pray, and that is what these people need most. With God all things are possible.
"For where two or three come together in my name, there am I with them."
Matthew 18:20 - New International Version