Tuesday's Toolbox - This Week's Item - The Kitchen Sink
Mood:
happy
Topic: Blog Carnivals!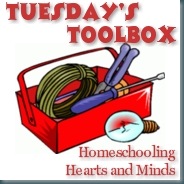 Many of you know that my wife Sarah and I met while we were both counselors at Cedar Lake Christian Camp in Livingston, TN. We ended up dating (a very interesting long distance relationship), got married and had our reception at the camp, had our first child during one summer at camp (another interesting story) and then, later serving at the camp full time for three years. Although we now work full time running a mission for low income folks, we still have very fond memories of working at Cedar Lake. In fact, an incident that happened one summer there is the insperation for today's Tuesday's Toolbox item.
After spending a few summers as a counselor, Sarah was chosen to be the head of the girl Counselors in Training (CIT's) that worked in the kitchen. She enjoyed directing these neat young ladies while they set tables, served food, and cleaned up, but bemoaned the fact that the only time that she came into contact with the campers was when their individual cabins were chosen to help wash dishes. One day, though, something happened to help her understand that God uses all those who are faithful in special ways.
One day she noticed one young boy who looked sad and forlorn while he worked rinsing some dishes so she sidled up beside him to help, and to find out what was wrong. After some discussion she found that he was troubled by some of the camp fire talks and Bible studies. She came to find out that he was unsure that he would go to heaven when he died. She kindly explained once again how Jesus came to earth and lived a perfect life but then was punished by being put to death on a cross. But, He wasn't punished for anything that He did, He was punished for the sins that we commit every day. He took our punishment, so that we wouldn't have to punished by dying and spending eternity in hell. He did this as a free gift to us, and all we had to do was accept His free gift.
She

told this little boy that when we accept this free gift, Jesus will wash all of our sins away and we will be as clean inside as these dishes are after they are thoroughly washed. But, the decision had to made by the little boy. Only he could choose to accept the free gift or not. She explained it so simply, that all of his doubts were removed and his questions were answered. He eagerly said that he was ready to accept Jesus' free gift right now. So, right by the sink of dirty and washed clean dishes, the little camper prayed with Sarah, thanking Jesus for giving him eternal life. The brightness on his face was proof that the decision he had made was the right one. No longer was this young boy sad and forlorn, but he was overjoyed and full of hope. And, the change was made while working over the kitchen sink.
I'm sure that many of your children have accepted the free gift that Jesus offered them, but this story proves that God can use any object or chore for His glory. Perhaps your children are already saved, or maybe they don't wash dishes, but they all desire and need our attention. The next time they are looking sad or even when they appear happy, sidle up beside them while they are cleaning their room. Join them while they are taking out the trash. Help them as they fold the clothes. Take some time to spend with your kids starting today. Use the teachable moments. Notice when they are feeling down. Allow God to use you just as Sarah allowed God to use her. You never know. It could be a life changing experience.
PS. Don't forget to head on over to Tuesday's Toolbox host page to check out all of the other tools for this week. Just click here.