Vocabulary Cartoons - A Fun Way to Learn Vocabulary - And I Mean REALLY Learn It!
Mood:
spacey
Topic: Homeschool Product Review
Growing up my family was always competitive. We weren't cut throat or anything like that, but we still liked to compete and win. And it wasn't just athletic games that we played. I remember one time my sister and I had a contest to see who could get the most correct answers in the monthly Reader's Digest Word Power column. She always won. Of course she is 15 years older than I was. I know, excuses, excuses.
Anyway, the vocabulary contest that I had with my sister really spawned an interest in words, and I grew to love learning new words and their meaning and I want to pass that on to my children. So, when I learned that I was going to get to review Vocabulary Cartoons by New Monic Books, I was excited.
Vocabulary Cartoons is a very unique way of learning the meaning of new words. It's a way that I had never seen before, and was a little intrigued and perhaps even a little skeptical that it would work. They first introduce a word and give a definition. Then they give you word that is similar to that word. For example, one of the words was "smitten" which means very much in love. The similar word was "kitten". They then draw a cartoon portraying the vocabulary word but using the the similar word in it. For the word smitten they had a cartoon of a kitten, purring with hearts around it, brushing up against a dog. The cartoon had the title of "A Smitten Kitten". They then use the word in three sentences. Let me give you an example of an exact page so that you can see what I'm talking about: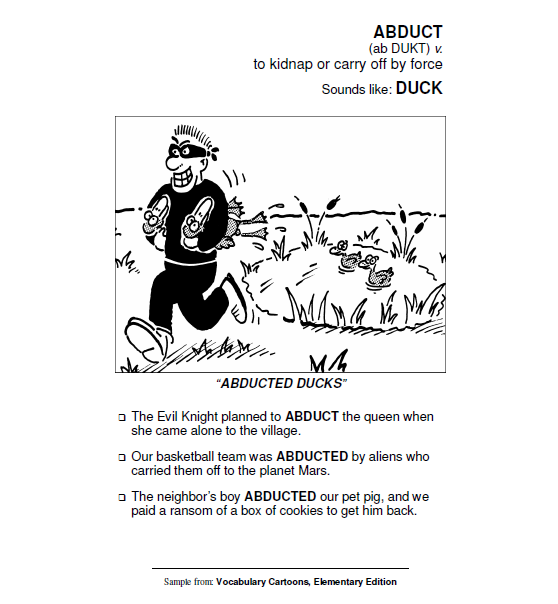 It takes about a minute to look over the page, but it works! The combination of the definition, the similar word, the cartoon and the three sentences gives you a picture in your mind that really sticks. I gave this to John Allen, my 8th grader to use. I would assign him 10 words a couple of times a week. After 10 words, there is a review - usually a matching the word with it's definition and filling in the blank with the appropriate word type thing. In order to preserve the book for my younger boys, I just had him jot his answers down in his Language Arts notebook. This evening, right before writing this review, I did a little oral quiz with him. I asked him to give me the definitions for the first 30 words. I told him the word, and he had to orally answer. He only missed one! And most of the time he gave the exact definition that was in the book. I was thrilled and impressed. I knew that he enjoyed working in the book, and I looked over the answers he gave for the review, but this is the first time that I really quizzed his long term memory of the words. I used to think that this was just a fun activity and might help him remember learn some vocabulary words, but now I'm a believer! This really does work.
But, don't take my word for it, check out the website by clicking here or on any one of the hi-lighted links above. The New Monic Books website has sample pages of the different level of books that they sell. The level book that was sent us was the elementary edition that sells for $12.95. But, they sell books for all grade levels including high school students who are getting ready for the SAT! A group of TOS Homeschool Crew members reviewed the SAT versions and you can read what they thought of them by clicking here. Or to see what other crew members who reviewed the elementary version thought just click here. Happy homeschooling.
As a member of the TOS Homeschool Crew I was given a free copy of "Vocabulary Cartoons" by New Monic Books in order to try out and review on my blog.