Men's Monday Meme - Finally!
Mood:
happy
Topic: Men's Monday Meme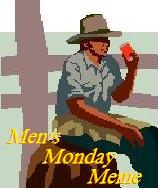 Whew! It has been an interesting past few weeks...matter of fact, it has been an interesting past few months. Somewhat stressful in areas - basically because I don't let God take control and try to control it myself (never works

) - but exciting in a lot of areas. I'm sure in the months to come I will be sharing with you here and there.
And more excitement it coming in about a month...the elections! Now, some of you, I know, could care less about politics, but it is fascinating to me. I don't think that I would be a good politician, God would really have to give me a clear and forceful push for me to ever run for office, but, I love to follow it. I have always been an American history buff, and, I guess, that kind of leads into loving our great nation and caring about what happens to our country.
One of the things that really angers me a little is people who just don't care about the United States and the direction it's going in, and don't even vote. Now, I'm the type of person that occasionally watches C-Span and relishes watching cable news (all right, I'll admit it, I'm a FOX News fan), and I have more than once written my senator or congressmen about an issue. I don't expect everyone to be like me. That's not for everyone. BUT, I do think that it is the civic responsibility of all United States citizens to at least vote.
Maybe I'm wrong. Am I missing something? Is there a real reason why people don't vote? That brings me into this week's question:
Do you vote? Why or why not? Is there a personal or religious reason that drives you to vote or not to vote? Is there another reason why you do or don't vote? Let us know how you feel!
Now, especially since it's been a couple of months, here's the rules:
This is a man's meme, so the answers must be the answers from a man. Either the man can answer on his blog, or a wife can interview her husband for her blog. However, if the wife puts it on her blog, she must stay true to what her husband said.

You are encouraged to put a Men's Monday Meme button on your blog. Just copy and paste the button at the top of this post. The more folks who link, the more readers you may have to visit your blog.
You may answer the question any time during the week up through next Monday. After you answer the question, add the address to your post to the Mr. Linky below. If you could, please only add the direct link to the post to make it easier for readers to find the entry.
My answer (if I remember to post it ) along with a new question will be posted next Monday. The new Mr. Linky will be added at midnight Monday night or sometime within the next couple of days after that .
And here's the Mr. Linky: