It's BAAAACK!!!
Mood:
happy
Topic: Men's Monday Meme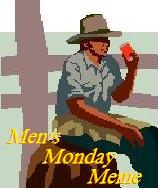 It's Back! After a couple month break, I'm brining it back. I figured with the start of school that nobody would really have the time to participate but, not that school has been going on for a month or so, I've decided to restart it.
I have some good questions coming up - especially with the elections coming up

! Can't wait to hear what you all think about them.
I'll be posting my first one tomorrow - after all, it is called the Men's Monday Meme

. So check back tomorrow to see what the first new question will be!