Let's Have A Party - A Pizza Party! - And A Giveaway!
Mood:
a-ok
Topic: Homeschool Product Review
Let me tell you, the Tinkel family loves pizza. We love delivery pizza, we love resteraunt pizza, we love home made pizza...it doesn't matter, we love pizza! That's one of the reasons why we were thrilled to receive Download N Go's unit study Pizza Party.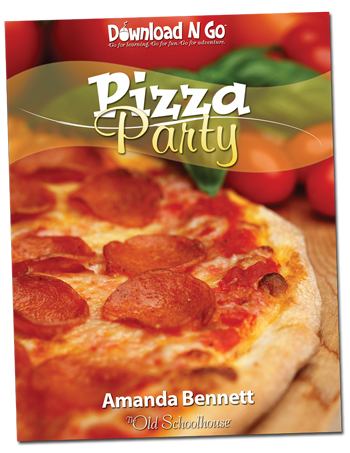 If you remember, the Download N Go unit studies are week long studies that would really take much longer than five days if you did everything that is included. Download N Go's have everything that you can think of...coloring pages, clickable links to fascinating videos and topics, a lapbook to put together, among other things. And, everything is included. There's elements of math, social studies, science, and grammar plus just good old fashion fun.
For example, here are the daily themes for Pizza Party:
Day 1: Pizza—What Is It?

Day 2: The Story of Pizza

Day 3: Types of Pizza

Day 4: The Science of Pizza

Day 5: Let's Have a Pizza Party




Joshua and I began this fantastic study just this last week, and let me tell you what we did just on our first day. We...
Watched two videos on kids making pizza.
Drew our favorite pizza and labeled the main parts and toppings.
Learned about the history of pizza.
Learned math concepts by dividing a pizza into eight equal pieces.
Located Italy on the map and colored it in.
Discovered that Naples, Italy was the birthplace of pizza and located it on our map.
Learned about the weather in Naples.
Found out what language they speak in Italy and watched a cute video on th Itilian alphabet.
Learned about Marco Polo and watched videos of his great travels to China and back.
Talked about what supplies that we would need to take with us if we ever went on a journey like that.
And, if we would have had time, we could have begun our lapbook, but I decided that our lapbooking would have to wait for another day.
There is also a book list where you can choose books from the library that go along with your study and a list of extras (as if that wasn't enough) that you can do each day after the regular study is done. And all of this is seamlessly put together by the author, Amanda Bennett, so that you can't even tell where you stopped talking about pizza and when you began talking about Italy and Marco Polo.
So, now you can see why I say that you could never get it all done in one day even if you tried. What I do with Joshua, and what I would recommend you do as well, is to just pick and choose the activities that you feel best fit your child's needs and your their learning style. But, be warned, all of Ms. Bennett's ideas are so neat that you'll want to try them all.
So, how much does tis great 112 page unit study cost? Well if you act by midnight tonight, you can get if for $5.00. Otherwise, it's only $7.95. All you have to do is click here or on any one of the hi-lighted links above to find out more about Pizza Party and other great Download N Go unit studies. But, The Old Schoolhouse has given me permission to give away a free copy of Pizza Party to one great person. Here's how you can get an entry in for he drawing.
1. Leave a comment below telling me why you would like a copy of Download N Go's Pizza Party (worth one entry).
2. Subscribe to my blog by clicking on the subscribe button at the end of this post and then leave a comment saying that you did (worth one entry).
3. Subscribe to my blog by clicking on the Networked blog button in the left column and then leave a comment saying that you did (worth one entry).
4. Become a fan on my Families Again Facebook page by clicking here and then leave a comment saying that you did (worth one entry).
5. Follow me in Twitter by clicking here and then leave a comment saying that you did (worth one entry).
6. Twitter or Facebook about this give-away and leave a comment with a link to the post(s) (worth one entry per day. Must make a separate comment each day).
7. Blog about this give-away and leave three comments saying that you did (worth 3 entries).
8. Become a fan of Download N Go by clicking on the Download N Go Facebook button in the left hand column and leave two comments saying that you did (worth 2 entries).
I'm going to be holding the drawing a week from today on Sept. 12, so enter quickly.
To find out more about Amanda Bennett and other great products that she produces, click here. And, last but n least, click here to find out what other Download N Go reviewers thought about Pizza Party. Until next time, have fun making pizza and Happy Homeschooling!
As a member of The Old Schoolhouse Download N Go review team I was given a free copy of Pizza Party to use and review on my blog.