Time4Learning - Elemenary Edition
Mood:
a-ok
Topic: Homeschool Product Review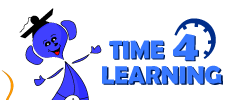 Last year I had the great pleasure of reviewing Time4Learning's preschool program and Joshua loved it. One of the first things that he covered was shapes, so instead of "Time4Learning", Joshua wanted to play "Shapes" all of the time. Of course, he learned much more than shapes. You can read my review of Time4Learning preschool by clicking here.
This year I got to review Time4Learning's elementary program and, although Jacob wasn't too thrilled, John Allen and Joshua enjoyed it! It was everything that we expected and more. I put Joshua to work on math right away because that is where he is very deficient. He is still learning about money and they had some great lessons on identifying coins and their value, then on adding different coins together. Later he really enjoyed some of the science activities such as learning about magnets. Time4Learning always makes learning fun. Joshua loved the animation. Much of it was hilarious and even Jacob wanted to watch some things over and over again. That's what makes Time4Learning such a great program. They do excellent teaching in very entertaining ways. When the two go together, you can't lose.

Even the older grade sections are great. John Allen worked on pre-algebra, and, although such topics have to get down to brass tacks a little more and not use as much animation, it was still well done with excellent teaching. You really can't go wrong with Time4Learning.
Now, don't get me wrong, Time4Learning has much more than math and science. It has social studies, history, grammar...almost anything you can think of. And, it has printable worksheets to reinforce the online interactive teaching and, for those reluctant learners, there are reward games that you can play. The games are links to some of the best educational and fun game sites on the internet. It's all easy to use with detailed reporting, lesson plans, teaching tools for parents, and it all meets state educational standards. Time4Learning can be used as a stand alone homeschool curriculum or as a supplement to your existing studies.
Now with everything that I've mentioned above you probably think that this must cost an arm and a leg but you would be wrong. Time4Learning only costs $19.95 for the first child and $14.95 for each additional child! Still not convinced? If you go to there website, Time4Learning has free lessons in all grade levels that you can try out. You can get to their website by clicking here or on any on of the hi-lighted links above. And, don't forget, you can access the reviews of the other TOS Crew members by clicking here. Give it a try, I don't think you will be disappointed. Happy home educating!
As a member of the TOS Homeschool Crew I was given a free 30 day membership of Time4Learning's elementary edition in order to try out and to review on my blog.