We've Up and Done it Again!
Mood:
happy
Topic: Compassion International
Yep, we've up and done it again! We've adopted another Compassion International child. Oh, don't worry, he's another correspondence child. Remember, a correspondence child is one that someone else sponsors but for some reason they either don't want to or are unable to write to them. Writing is a very important part of the Compassion program. It ranks right up there with the sponsoring. Feyber and Somi are our other correspondence children. Marcelo is the only one that we sponsor at this time.

Anyway, his name is Emmanuel (Isn't that a neat name! Emmanuel - God with us!). And, the exciting thing is that he is from an area of the world that we don't sponsor any other child from - Africa! Tanzania to be exact! And, the other really neat thing is that he is an older child. In fact, on his next birthday he will be 19 years old! The boys are excited to have an older brother, and we are excited to have an older son. I have already sent off one of the email type letters to him. Remember, the email doesn't go directly to him, but is sent directly to Africa where it will be printed out and translated - it doesn't have to be sent through the main headquarters in Colorado first. The email is quicker, but doesn't allow us to send anything to them. We have packets of things almost all ready to go for our other three boys. Now we have to get a packet ready for Emmanuel as well. Please pray with us as we try to help these impoverished children from around the world. It is exciting but also sobering for us to think that these boys respect and really value the advice and guidance that we give. Please pray that we will give good, Godly advice to them.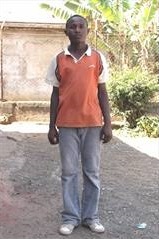 Please be in prayer regarding sponsoring a child through Compassion International. If you are interested, just click here or on the flashing sign way at the top of my blog. If you have any questions, I would love to answer them. Feel free to ask. My email is tink38570@yahoo.com. It is a very rewarding experience.
By the way, for those of you who have been waiting patiently for the new Men's Monday Meme question, it will be posted tomorrow. And, it will be a doozy!