All Right Everyone...Time 4 Learning!
Mood:
a-ok
Topic: Homeschool Product Review
Do you remember back to the times that you went to school? Wasn't it always fun when you had a good teacher that made learning exciting? When your teacher said something like "All right children. It's time to get settled for class" everyone was eager to find out what would happen and what they would learn.
Well, I've found a computer program that is so fun to use that Jacob (our four year old - Yes, Jacob!) doesn't wait to be called, he comes and begs me to get on it. AND, it's educational! It's called Time4Learning and it really is a great program for preschoolers. In fact, it's so good, that Sarah and I have promised to purchase it after our trial run is over.
This program has everything. From introducing shapes, numbers and letters to teaching about the weather, food and feelings. In fact, it has twenty topics to choose from just in pre-school level one. Here's a picture of the start page minus the bottom two rows of pictures (I couldn't fit them on the screen).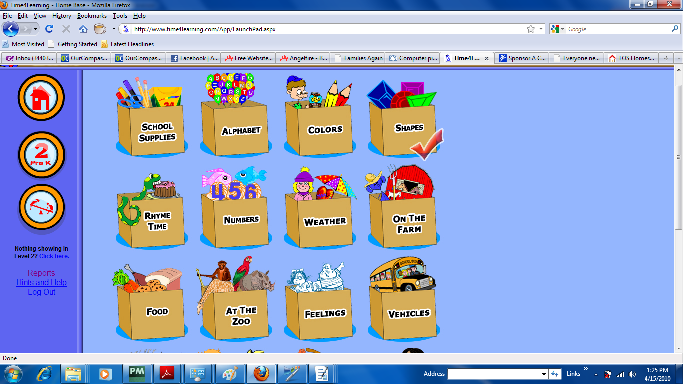 You begin by choosing a category. I let Jacob pick one himself since we are just now beginning his formal learning. If you are using this to supplement your curriculum, or perhaps as your curriculum, you could do the choosing yourself. When you choose a category, you usually get a screen that looks something like this: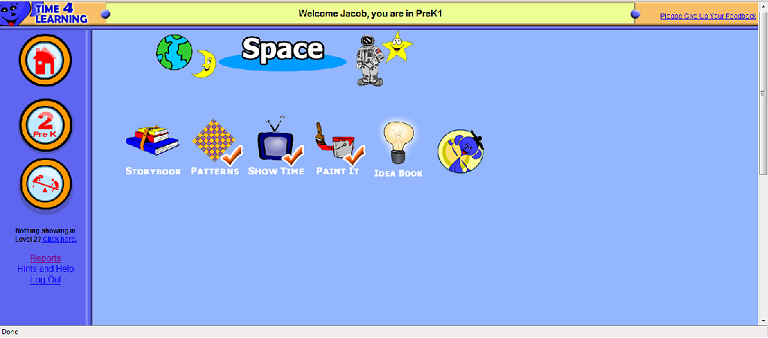 This is the screen for the Space subject. Almost all of the subjects have about five activities to do. Most have "Storybook" and "Showtime". They introduce a new concept in very entertaining ways. "Showtime" also has an interactive activity at the end of it. There are several other activities like "Patterns" where you have to complete the pattern and "Paint" where a picture comes up that you get to "Paint" after you pick up a color with your online paintbrush and place it where you want it to go on your picture. Several of the activities are repeated in different subjects. For example, the Shape subject also has the "Paint" activity. Some of the other activities that are used with other subjects are "Match-it", "Find-it", "Memory Match" and "Syllable Drum". All of the activities are age appropriate and fun but also very educational. When a child has completed an activity, there is a check put on the picture. In the picture above, you can see that Jacob has completed the activies for "Showtime", "Paint-it" and "Patterns". When all of the activities in a category are done, then a check is placed on the subject box in the main screen as well. Don't worry if your child has completed a favorite activity. You can still go back to that activity as many times as you want.
Now, since Jacob is so young, I am usually right there at all times to watch and help if needed, but with older kids (other, age appropriate subjects and activities are included for them) there is a special report page where parents can check on their progress in the different subjects and activities. There are also new features being added all of the time.
When Jacob is done with all or most of the Pre-school Level 1 topics, then there is a whole set of new topics complete with different activities to challenge him. So, the neat thing about it is that he is always learning a new subject and new, very educational, activities as well. Here is a screen print of some of the Level 2 activities: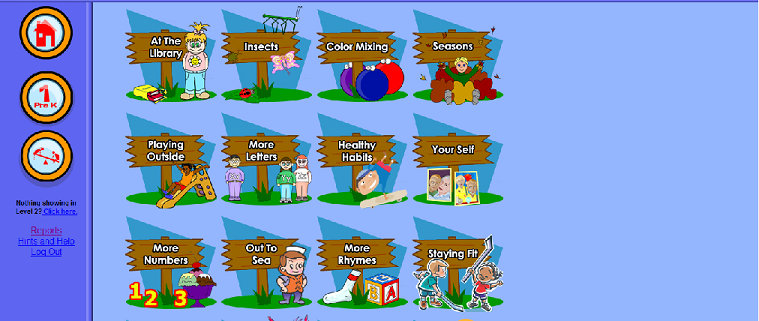 Okay! Here's the really neat part. Did you see that extra little circle with the kids playing on the see-saw? That is the playground area. I call it the "Award Area". Time4Learning has linked into a lot of great educational games that other companies and websites have produced and they allow you to play them. What's the clincher? They have it timed so that you can only play them for 15 minutes each. So, you can allow your kids to complete a Time4Learning activity then reward them with another fun educational game.
Time4Learning goes up to 8th grade. When you sign up you have to program what grade level you want your child to start in. But, never fear, if you've signed up for the wrong level, or if you child progresses quickly, they allow you to change grade levels.
As I mentioned before, Jacob asks to do Time4Learning. He loves it! And, anything educational that my kids ASK to do is worth it to me. This is a keeper. So, how much is this great program? It's only $19.95 a month for the first child and $14.95 a month for each additional child! When you think about it, it is really comparable to many of the ridiculous online games that kids play these days and, remember, Time4Learning is educational! To find out more about Time4Learning, just click here or on any one of the hi-lighted links above. Some of the other TOS Crew members reviewed other levels, so you can check out there reviews by clicking here. Since Time4Learning can be used as a supplemental resource even kids that go to public/private school can use it at home. So, instead of saying "Happy Homeschooling", today I'm going to close by saying "Happy Home Educating"!