Special News Alert - Be On The Lookout
Mood:
energetic
Topic: Homeschool Product Review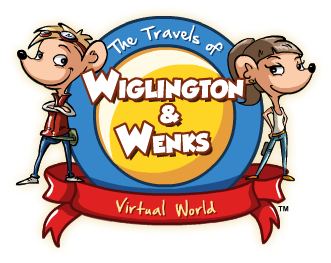 This is a special BOLO (Be On the Look Out). It seems that famous historical people from all over the world and from all time periods have mysteriously been time warped into modern times and into different countries than they are from. And, what's worse, is that they have all gotten amnesia. They don't know who they are! Your mission ~ if you choose to accept it ~ is to join the famous explorers,
Wiglington and Wenks
and travel around the world to locate these people. They could be inventors, politicians, heroes, religious figures, scientists, musicians...you name it. You need to find them, and help them regain their memory. How do you do that. Well...
First you need to go to http://www.wiglingtonandwenks.com/ and sign up for either a free membership or a paid membership. A paid membership will allow you to gain access to some of the special features that are only available if you buy one of the membership plans. They are reasonably priced at $5.99 for one month, $16.99 for three months, $29.99 for six months or $59.99 for one year. There are also some extra charges for special costumes and accessories that you can buy.
Then you need to go to Wiglingtontown and find the Traveling Academy in order to get your passport to travel.
After you've obtained your passport you can head out to find the lost historical figures. They could be anywhere, so be on the lookout wherever you are.
To help them regain their memory, you have to find items that belong to them. They could be articles of clothing that they wore, inventions that they made, things that they used...you'll know them when you see them. Once you find these things, you bring them back to the owner to help them regain their memory.
Beware of Count Cannaregio and his minions. Every good plot and every good game must have it's evil character.
Along the way you can do a lot of fun things like:
play special games
meet and chat with other travelers
buy and wear special costumes
discover new areas
learn new things
buy your own island and build your own mansion
organize virtual parties for all of your new virtual friends
the fun is really limitless
Check out this neat video to find out more:
So, what are you waiting for? Head on over to Wiglingtontown right away to start searching and start having fun! Just click here or on any one of the hi-lighted links.
Special note to parents - My kids loved Wiglington and Wenks. I loved it as well. Finally an educational game to take the place of these popular on-line virtual worlds where all you are doing is playing pranks or battling one another. With Wiglington and Wenks, your kids actually learn something! Imagine that...learning something on the internet

!
There are a couple of caveats that I feel I must mention. Although, by and far, Wiglington and Wenks is a great educational game, it is still fairly new and the company is still in the process of working out some of the kinks.
The ability to have conversations with other members is one area that still has some flaws. As of right now, if there is any inappropriate behavior that you notice, you are to report it to the administrator and they will take action ASAP. Unfortunately, until they take action and until they come up with a system where foul language or inappropriate remarks can't be made, your children still may encounter them occasionally. My children, however, never encountered anyone like that (at least they never did while I was watching).
Another area that is worth at least a slight mention is the choice of some of the historical figures. Although most homeschool families are very grounded in their education and beliefs, one or two characters may not be of their liking. One character that comes to mind is Charles Darwin. The talk (at least all the talk that I could find) is mild regarding evolution or anything like that. I just felt like, as a reviewer that is reviewing for primarily homeschool families, it should be mentioned so that the aforementioned homeschool families are not surprised when they see some characters that they may think worthy of being in the game.
Those are the only two negative areas, albeit slight, that I felt worthy of mention. All in all, I found nothing really objectionable and my kids enjoyed playing it. Again, to get to the Wiglington and Wenks game, click here. To find what some of the other TOS Crew members thought about Wiglington and Wenks, click here. Happy Homeschooling.
As a member of the TOS Homeschool Crew, I was given a free one month membership to the game Wiglington and Wenks in order to try out and review on my blog.