Men's Monday Meme - What Would You Do If...
Mood:
mischievious
Topic: Men's Monday Meme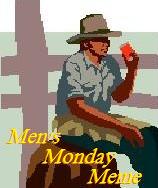 Ok! It's been a busy week! If you've been following along, you know that I've been at a really big homeschool convention this week. So, I really haven't had time to even think about a question, let alone post one. However, in the past few days, one of my blogging friends has been having an exciting time. Her only child, a daughter, is 16, and she thought that she was done having children. But, lo and behold, she is having crazy cravings, she's been more tired recently, etc. All the signs that she might be pregnant again, So, here's this week's question. It's not a hard question, kind of a fun one, so I think you will have plenty of time to answer it.
What would you do if your kids were grown and your wife told you that she thought...more than thought...was pretty sure that she was pregnant?
Don't forget the rules:

This is a man's meme, so the answers must be the answers from a man. Either the man can answer on his blog, or a wife can interview her husband for her blog. However, if the wife puts it on her blog, she must stay true to what her husband said.
You are encouraged to put one of the Men's Monday Meme buttons found to the left on your blog. Just copy the code below the button of your choice. The more folks who link, the more readers you may have to visit your blog.
You may answer the question any time during the week up through next Monday. After you answer the question, add the address to your post to the Mr.Linky below. If you could, please only add the direct link to the post to make it easier for readers to find the entry.
My answer along with a new question will be posted next Monday. The new Mr. Linky will be added at midnight Monday night.
And here's the new Mr. Linky: