A New Blog Friend
Mood:
a-ok
Topic: Ministry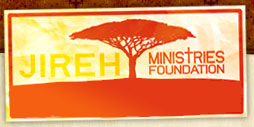 Recently I became blogging friends with Jim Fruehan. Jim and his wife, Robyn, direct "The Lord Will Provide" aka "Jireh Ministries" in Uganda. Jim has an amazing story that I won't even try to repeat here on my blog but let me give you what I think is the neatest detail. After Robyn took a mission trip to Uganda in 2005, Jim and Robyn were led by God to start a ministry in Uganda. Now Jim isn't some young whippersnapper. He is 58 years old (of course, since I am reaching 50, that sound pretty young to me). Jim sold his construction company and off they went to Africa and now run a fabulous ministry there.
Now, you know that Sarah and I work for BCM international and we are very involved with sponsoring kids from Compassion International. Both of those organizations, however, have workers in Africa, so reading Jim's blog will really help you in understanding how far a little bit can go in those countries.
You can access Jireh Ministries foundation website by clicking on the banner at the top, and you can get to Jim's blog - with some really neat stories - by clicking here. Grab a box of kleenex and read a couple of Jim's stories. They're worth it!