Tales from Terrestria - Quest for Thunder Mountain - Review By John Allen Tinkel
Mood:
a-ok
Topic: Homeschool Product Review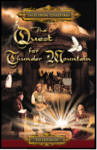 Okay, so it's not totally by John Allen, but most of it is! This review was actually due while we were away at the Midwest Homeschool Convention. While there, it was suggested that since John Allen read the book, he could help write the review. We both thought it was a great idea!
Now, I'm going to be honest, when John Allen first handed me this review, this very cynical father thought he had copied it from someplace. I mean, it was just too good! However, after much questioning, a little looking around, and a little thinking about it, I realized that there was no way that this was written by anyone else but him. First of all, there were too many spelling mistakes. John Allen is smart, but not that creative to misspell all of those words on purpose. Second of all, no matter where I looked I couldn't find anything that even looked remotely like that review. Oh ye of little faith. I was flabbergasted then, and as I reread it, I'm flabbergasted again.
Anyway, when the TOS Homeschool Crew heard we were reviewing some of Ed Dunlop's Terrestria books, the Crew forum lit up with excitement. I had never heard of them before, but so many of my fellow crew mates had not only heard of these books, but they or their kids had read them. They raved about them. They were all excited. Not only were they excited, however, John Allen was as well. Although he had never read any of them before, the description of these books seemed to be right down his alley and, true to form, they were. He was totally immersed from the start. He loved them! We received books 1 and 4 from the "Tales from Terrestria" series. The books in this series compliment "The Terrestria Chronicle" series. Some of the Crew families got books from the "Chronicle" series...a series that you need to read in order, and some got books from the "Tales" series. Those books don't need to be read in order.
When a parent doesn't have to tell his child to read a book, when that child just reads without asking, then you know the book has to be good. And read he did! He read and read and read! And wanted to discuss every chapter with me that night! I figured that these have to be good if he wants to do that. A thirteen year old wanting to discuss a book with his father? How unreal is that. Anyway, this is just his review of the first book in the "Tales From Terrestria" series. The review from the fourth book, "The Isle of Dragons", will be coming soon.
So, without further ado, here is John Allen's review:
Tales From Terrestria - Quest for Thunder Mountain is a book I read for school this year. It is about Gavin (A young minstrel) who takes a journey to Thelma Mountain to find the will of his king (King Emanuel). The Quest is very adventuresome and interesting. As you go along you will find that Gavin meets 3 friends along the way, and some enemies also. As they go along the enemy (Argamer) makes many attempts to stop them. This book has every thing a young reader wants: adventure , action, comedy, and even romance. It also has many enemies and monsters like solders, dragons, castles, robbers, and even slaves, but they trust in King Emanuel, his book, and the Dove to keep them on the right path and keep them safe. This book is great for a young Christian reader, and their parents to. It is a chance for them to learn about God in an interesting way.
Now, when I was in seventh grade, I don't remember writing anything like that, but I'm a little partial

.
The "Tales From Terrestria" series, and "The Terrestria Chronicles" series are both available by clicking here or on any one of the hi-lighted links above. The individual books from both series are sold for $7.99 each. You can also buy the three available books for the "Chronicles" for $19.99. Visit the website to find out about other great series of books by Ed Dunlop along with coloring sheets to go along with both of the Terrestria series. Here is the link to find out what the rest of the TOS Homeschool Crew had to say about both of these series.
Stay tuned for John Allen's review of "The Isle of Dragons". Until then, Happy Home Educating!
As a member of the TOS Homeschool Crew I was sent a copy of books 1 and 4 of the "Tales From Terrestria" series in order to read and review on my website.