What Do I Want For Christmas?
Mood:
a-ok
Topic: General
If you will remember, back in May, after much prayer, the Tinkel family decided to sponsor a child with Compassion International. It has been a joy. Our family loves it and we love the child that God chose for us. His name is Marcelo and he is from La Paz, Bolivia.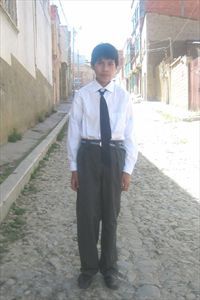 The whole family as fallen in love with Marcelo. We write letters to him almost weekly. Sometimes it will be a family letter, other times, one of us (including the boys) will write a personal letter to him. He answers every one of them, although it takes a couple of months for them to get here. In fact, it takes about two months for our letter to get to him, and then about another two months for his letter to get back to us! He always asks about the boys, and always ends with love and hugs to all of us. Frequently he will include a picture that he has drawn for us. He lives with his mother, grandmother, and siblings, and although his father is supposed to be involved in his life, he hasn't mentioned him yet. We pray for him constantly, and know that our money is going to good use. We would love to someday go and visit Marcelo, and would love to sponsor a second child if God would ever allow us to do so.
We are sold on Compassion International and their mission. That's why we signed up for the "All I want for Christmas program". We have been given an unsponsored child to pray for during the entire month of December. But, we are not only to pray for her, but we are to pray that perhaps we could find a sponsor for our special child. I will be telling you more about our Christmas Child tomorrow, but in the meantime, could you please pray that God would give you an open heart and an open mind to perhaps sponsoring a child? Maybe you had never thought about it before, or maybe you had thought about it but weren't ever quite sure. Please pray today about what God may have you to do. While your at it, please say a prayer for Marcelo. In the meantime, visit the Compassion International website by clicking here or on the hi-lighted link above. Thank You! You won't regret it!