An Exciting Announcement!
Mood:
energetic
Topic: Men's Monday Meme
In my ever zealous attempt to make my blog more visible to others, I went looking for a meme that I could participate in weekly. A meme (sounds just like it's spelled - "me me") is a weekly post that someone puts on their blog. It usually has some type of theme like "Wordless Wednesday" where every week on Wednesday the blog author posts pictures that tell a story - no words needed. The author can then put a place at the bottom of their post where others can sign in and give a link to their own Wordless Wednesday post on their own blog.
Unfortunately, most of the meme's that I found were geared toward women. So, I decided to start Men's Monday Meme.
Here are the rules.
Men's Monday Meme
is going to take the form of a weekly question for men. It may be a fun question, a question about family, a spiritual question, really anything that pertains to a man. Either the man can answer it on their own blog, or perhaps as a guest on their wife's blog, or a wife can ask her husband the question and then blog about it herself. The only stipulation is that a woman must stay true to what her husband said (no cheating ladies

).
The question will be posted every Monday and the men will have all week to think about it and post their own answer. Although it is called Men's Monday Meme, you can post your answer anytime during the week up and through the next Monday. I will post my answer the next Monday along with a new question for the next week. I know that folks are busy, and Monday's may not be the best day for them to post, so that's why I am letting them post anytime during the week.
All I ask is that you grab the Men's Monday Meme badge and post it on your blog so that your readers can link back to the master list on my blog. I think this will be a win-win situation. I will gain more traffic on my blog from the folks you send my way, and then folks will see your blog linked on my page, and, hopefully, visit your page. Since this is a men's meme, which is unusual, we could both reach an entirely new audience that we haven't reached before!
Hmmm! I mentioned a Men's Monday Meme badge, but don't have a badge yet. Well, as a promotion for the first week, I'm letting you all pick the Men's Monday Meme badge! Below you will find six badges. All you have to do is look at the badges, pick one, then sign the MckLinky below. The number to to use is the one directly below the picture. Thanks for your help. I'll announce the winner next Monday along with the first question!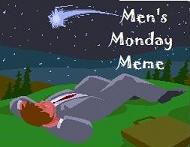 1.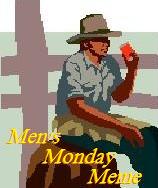 2.
3.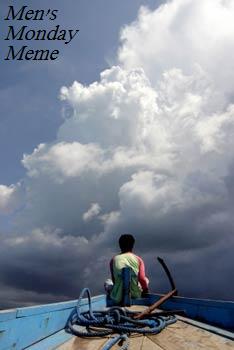 4.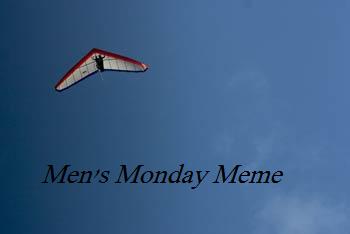 5.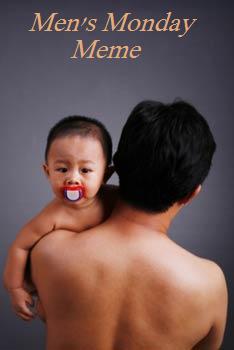 6.
Note: Sorry for any inconvenience. I'll get this MckLinky thing sooner or later. It's a good think I do most of my blogging late at night when not many folks are on! It should be working correctly soon. Thanks for your patience.