Meet Mwende - What Do You Think She Wants For Christmas?
Mood:
happy
I talked to my friend Kees Boer today. Kees is the person who introduced me to Compassion International. He told me the story about a little girl from Bolivia who he was able to find a sponsor for. He told me that when this little girl found out that someone was going to sponsor her, she jumped up and down like a kangaroo because she was so happy. You see, the average family in La Paz, where this little girl and our Compassion child, Marcelo, live has a monthly income of $67. Now I know that the cost of living in Bolivia is less than in the US, but even at that rate, it is very hard for a family to live on. The parents often turn to alcoholism. Many fathers leave their families. Often a girl will become pregnant at the age of 13 or 14. They then have to leave school and try to find a job to support their new child. But, then, they must leave the child while they work 12-14 hour days to make very little. The child is then raised by the folks left behind in the slums where they live, and cycle begins all over again. When you help a child with Compassion International, you help to break that cycle. Your monthly support of $38 helps to provide them with a good food and clothing for the present and Bible teaching and a good education so that they can break the cycle that they are in. However, most importantly, your letters of encouragement and love will help to break the cycle of low self worth and low self esteem. It will show them that somebody loves them and thinks that they are worth something. It will show them that the love of God does exist.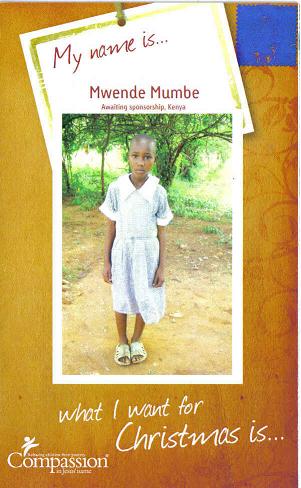 This is Mwende Mumbe. She is from Kenya. Her birthday is July 2, 2000. Here is some information about Mwende:
Mwende lives with her mother. Her duties at home include carrying water. There are 6 children in the family. her mother is sometimes employed as a farmer.
As part of Compassion's ministry, Mwende participates in church activities. She is also in primary school where her performance is average. Hideandseek is her favorite activity.
Because of your sponsorship, Mwende will have new opportunities to learn and grow physically, mentally, and spiritually. Thank you for your concern and prayers.
What more could you want for Christmas than to share the joy of sponsoring Mwende and know you are helping her learn and develop physically, mentally and spiritually?
What do I want for Christmas? I want to find a sponsor for Mwende. I can tell you by experience that sponsoring a child with Compassion International is one of the greatest joys that you could ever have. Just today John Allen wrote another letter to our child, Marcelo. Would you please pray about you possibly sponsoring Mwende?
It may seem strange that I put that my mood was happy at the top of this post. I'm happy, though, because I know that someone is going to sponsor Mwende and that she and her family will get the help that they need. If you are interested in sponsoring Mwende, please leave a comment below, or contact me through Facebook or Twitter. For more information on Compassion International, please press here. I have more information on Mwende that I would be more than thrilled to send to you. Sending the information does not obligate you to sponsor her, so if you are interested in more information, please ask. You can use it to pray that someone would sponsor her soon, or perhaps God is leading you to sponsor her. At any rate, would you please pray for a sponsor for Mwende soon? Thanks for your prayers. I will keep you updated!