The Men's Monday Meme is on a Staycation!
Mood:
lazy
Topic: Men's Monday Meme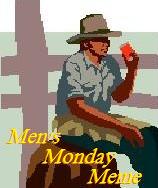 If you have been reading my blog the past couple of weeks, you know that we have been extremely busy with ministry and some family matters the past week or two. For that reason, I haven't had time to promote the Men's Monday Meme as much as I usually do.

I know, I know, it's hard to believe that I have to promote anything as ingenious as the Men's Monday Meme, never-the-less I do. So, I have put the Men's Monday Meme on a staycation. No, I'm not going to put my laptop on a lawn chair in my back yard beside a kiddie pool! It just means that I'm going to keep the same question for another week and try to advertise it a little better. Having said that, PLEASE PARTICIPATE. Click here to get to the last question. And, thanks for joining in!