Men's Monday Meme - It's Vacation Time - Or at least I wish!
Mood:
down
Topic: Men's Monday Meme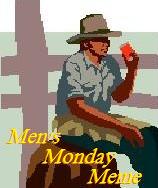 Yep, I'm still down. Computer problem has not been fixed and I am discouraged. I have been hopping around between my wife's laptop and my son's laptop and it is not fun. Not only that, but you won't believe how many things that you have stored on your laptop. For example, I am going to have to go to another Men's Monday Meme post to retrieve one of the meme logo's and then save it on to one of my small zip drives and then put it in this post. Then later, I'm going to have to hope that I remember my Mr. Linky password because it was programmed into my laptop to remember. ARGHHH!!! To much stuff! I hate this.
All of this mess makes me think about just getting away for a vacation. I had some wonderful vacations when I was younger. I don't know if I could pick out a favorite. I remember going to Massachusetts when I was 12 or 13. We toured a battleship and a submarine ~ I got stuck in the seatbelt in the parking lot of the battleship ~ good memories

. I recall touring Plymouth and Cape Cod ~ I ate my first seafood at a restaurant there ~ hey, I was from central Pennsylvania, not a very seafood eating place! One of my favorite memories was going to the Boston Aquarium and then touring Boston itself. I grew up loving history and still do today.
Other favorite vacations were to Colonial Williamsburg, Jamestown, Gettysburg (as you can see we were a history loving family), driving the Blue Ridge parkway, touring Mackinac Island, and, of course, our trips to Florida and Disney World before we actually moved there.
I could go on for days about our vacations growing up. I loved them and I'm sure I will write many more posts about them. I have a lot of great memories. We've created some great memories with our kids as well. I love vacations.
That leads me to the question of the week:
What about you? Do you have some great vacation memories from growing up? Or, perhaps you've taken some pretty fun vacations with your own wife and kids. Tell us about your favorite vacations memory.
Don't forget the rules for the meme:
This is a man's meme, so the answers must be the answers from a man. Either the man can answer on his blog, or a wife can interview her husband for her blog. However, if the wife puts it on her blog, she must stay true to what her husband said.
You are encouraged to put one of the Men's Monday Meme buttons found to the left on your blog. Just copy the code below the button of your choice. The more folks who link, the more readers you may have to visit your blog.
You may answer the question any time during the week up through next Monday. After you answer the question, add the address to your post to the Mr.Linky below. If you could, please only add the direct link to the post to make it easier for readers to find the entry.
My answer along with a new question will be posted next Monday. The new Mr. Linky will be added at midnight Monday night or sometime within the next couple of days after that .
And here's the new Mr. Linky: