Men's Monday Meme - Late Again - It's the Story of My Life!
Mood:
lazy
Topic: Men's Monday Meme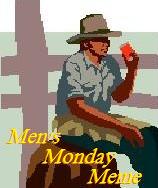 I suppose to have a real, live, honest to goodness, meme, I need to be more disciplined than this...but I'm not. We are visiting "The Grandmas" for a couple of days - Sarah's widowed mom and grandma who live together. Mom bought the boys season tickets to Dollywood so we tagged along. Tomorrow is a trip to the Smoky Mountains. Today is a rest day and I'm trying to get caught up with some things. Until I saw that someone from Dave's
Home School Dad
blog had been visiting my blog and realized I hadn't put up a new meme question for this week. So, to make it easy on everyone, I'm leaving the same question up for this week as well. Only one person has answered it so far, so it is still wide open for new answers. Sometime on Tuesday or Wednesday I'll post a new question for next week. Thanks for you understanding. For the link to the other question - just click
here
.