Men's Monday Meme - OH NO! I messed up!
Mood:
d'oh
Topic: Men's Monday Meme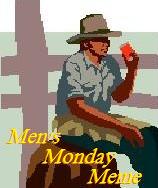 I messed up! I really did. I could say that ministry got in the way, and it kind of did, but really I have no excuse. I just didn't get around to posting a new Men's Monday Meme question this week.
So, this week I'm posting two questions that will cover this week and next. You can choose which question you want to answer which week. The only difference is I will leave this Mr. Linky up for both weeks. You just sign the Mr. Linky twice if you want to answer both questions. So, without further adieu, here are the two questions.
Question Number 1 - Because this is Mother's Day, I thought I would put a question up that is, in a way, in honor of mothers. The answer may not be a mother at all, but since there are folks in life whose mother was not active in their growing up years, then I thought I would phrase the question a little differently. Here goes.
Who is the woman that has made the most impact in your life and why?
It could be your mother, your wife, a sister or other relative, a teacher...whoever.
Question Number 2 - I've been thinking a lot about life lately. I guess reading about the Vogel's bicycle trips have got me to thinking about priorities. The Vogel's are a homeschooling family who just decided to get out of the rat race and live their dreams now instead of waiting for their twin boys to grow up. They wanted to share the adventure with their boys and make real memories that they could cherish forever. Their first adventure was taking a year to bicycle through the United States and Mexico. They bought a three seater bike called a triple (yes they make such things) for Dad and the two eight year old boys (yes I said EIGHT) and a single touring bike for Mom. Both bikes had bicycle trailers attached. After that was completed, they decided to leave a year later for an even bigger adventure - taking two and a half years to bike the Pan-Am highway from Alaska to Argentina! They wrote a journal of their first trip that you can find here and they are almost two years into their Pan-Am trip. You can follow that trip by clicking here.
The Vogels really promote family adventures. They encourage you to live your dream now, whether it's a little dream like to plant a large garden or a larger dream like building a cabin in the woods or hiking the Appalachian trail or, even traveling across the country.
So, I've been thinking a lot about what our dream is. Of course, you know that the Tinkel's are a very unconventional family to begin with. We are full time missionaries who have three very unique son's, so thinking about these types of things isn't out of the ordinary for us. However, it is still thought provoking. In the weeks to come, I'll be writing about what our Great American Dream is and how we are preparing for it. In the meantime, I want to know what yours is. So, here is question number two.
What is your American dream? What is it that you have always wanted to do, but always put off until "after the kids are grown" or "when I retire"? Tell us why you don't think you can live that dream now.
Okay, now that you've read the two questions, let me remind you of the rules:
This is a man's meme, so the answers must be the answers from a man. Either the man can answer on his blog, or a wife can interview her husband for her blog. However, if the wife puts it on her blog, she must stay true to what her husband said.
You are encouraged to put one of the Men's Monday Meme buttons found to the left on your blog. Just copy the code below the button of your choice. The more folks who link, the more readers you may have to visit your blog.
You may answer the question any time during the week up through next Monday. After you answer the question, add the address to your post to the Mr.Linky below. If you could, please only add the direct link to the post to make it easier for readers to find the entry.
My answer along with a new question will be posted next Monday. The new Mr. Linky will be added at midnight Monday night or sometime within the next couple of days after that .
And here's the new Mr. Linky: