John Allen's Done it Again! He reviewed another great book for summer reading!
Mood:
a-ok
Topic: Homeschool Product Review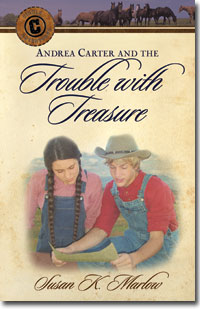 I remember the days when summer was not only a break from school, but also a great time to catch up on reading the stuff that I wanted to read. I've mentioned before that I was blessed with a family that read all of the time, and summer was no exception.
As part of the TOS Homeschool Crew we have been blessed this year to receive a number of good books to read and review. Some I have read, others I have used as read alouds to the family, and still others I have divied out to different family members to read. Although some may rank higher than others due to family tastes and interests, there really hasn't been a lemon in the bunch. All would be great for summer reading from the first that we reviewed on down to the following.
Recently we received Andrea Carter and the Trouble With Treasure to review and I immediately turned it over to John Allen to read. Since he did such a good job on his last review, I thought I would allow him to write a review for this book as well. He didn't disappoint me. I am constantly amazed at how much his writing ability has improved this year. This time around in his reviewing he learned how to use spell check and the thesaurus to improve the quality of his writing. So, without further ado, here are his thoughts on the book.
This time I read a book called Andrea Carter and the Trouble With Treasure by Susan K Marlow. In this book three friends, Andi, Jenny, and Cory go on a camping trip searching for treasure. When they get into some trouble, and find a rattle snake things start to go the wrong way. They also meet up with some bank robbers and they get in a fight with a mean deputy. Go on the quest for gold and adventure with these three friends. This adventuress book teaches how to accept responsibility and take charge when needed. It is fun for young readers and old readers alike.
Although the main character was a girl, Andrea Carter, John Allen seemed to really enjoy this book. Thankfully it is part of a series, so when his reading load for this year lightens, I can purchase more of the titles in this series and can be assured that he will be reading good wholesome material.

The Andrea Carter series is published by Kregel, the same company who published Bertie's War. They are know for only publishing family oriented material. The Andrea Carter books can be purchased for $7.99 a piece, and you can find them by clicking here or on any one of the hi-lighted links above. Some of the other members of the TOS Crew also reviewed Andrea Carter and the Trouble With Treasure, and you can find out what they had to say by clicking here. Remember, summer reading season is upon us. This would be a great book for your young reader. Happy Home Educating Summer!
As a member of the TOS Homeschool Crew I received a free copy of Andrea Carter and the Trouble with Treasure in order to read and review on my blog.