Men's Monday Meme - I've Read a Couple of things Lately
Mood:
quizzical
Topic: Men's Monday Meme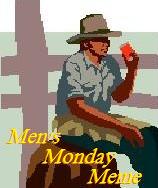 I've read a couple of interesting things lately. Things that have made me really think. Things that have made me wonder what this world is coming to, or maybe what have we become.
The first was when I read a retweet from one of my friends on twitter. It was about a lady who was an advocate for giving our children more freedom. She asks why we aren't the way we were in the 60's and the 70's. We would let our kids ride bikes all over town, We'd let them go to the park by themselves. It wasn't a crime to leave your 12 year old at home for a few minutes while you ran to the store. This advocate claims that the crime rate today is less than it was back then, but we shelter our kids and we don't let them learn on their own. Her organization proclaimed last Saturday as "Leave your kids at the park alone Saturday". You were to drop you kids off at the park for a half an hour or so and say goodbye. You weren't to go and watch them from behind a tree or anything else, you were to LEAVE! I really made me think about how we treat our kids these days. Are we overprotective?
The second thing that I read was a question that a lady posted on a forum. It seems that there is a bus stop close to her home and everyday she sees the same "older" lady waiting there for the bus. Occasionally she has said hello as she pulled out of her driveway but that was the extent of their relationship. One day, as she was pulling out with her kids in the car, the "older" lady came up to her window and asked if she was going "by the shops". Apparently you can't go anywhere in this town with out going by the shops, so she said that she was. The women then explained that she had missed her bus and asked if there was a way she could catch a ride to the shops and she would then ride the bus home. The mother then promptly answered "No! I hardly know you." The lady was taken aback and responded "I'm a mature lady", but the mother refused. After telling her story, the mother asked the forum if she were right. Some on the group were aghast that she would do something like that, others defended her decision.
Okay, here is my Men's Monday Meme question(s) for the week.
Are we being overprotective? Are we so cautious that we have lost sight of what it means to be kind and generous and outgoing with one another? Are all of the warnings correct or have we become a worrisome society? Or, should we be more wary these days? Have times changed and there is no going back? What are your thoughts?
As usual, here are the rule reminders.
This is a man's meme, so the answers must be the answers from a man. Either the man can answer on his blog, or a wife can interview her husband for her blog. However, if the wife puts it on her blog, she must stay true to what her husband said.
You are encouraged to put one of the Men's Monday Meme buttons found to the left on your blog. Just copy the code below the button of your choice. The more folks who link, the more readers you may have to visit your blog.
You may answer the question any time during the week up through next Monday. After you answer the question, add the address to your post to the Mr.Linky below. If you could, please only add the direct link to the post to make it easier for readers to find the entry.
My answer along with a new question will be posted next Monday. The new Mr. Linky will be added at midnight Monday night or sometime within the next couple of days after that .
And here's the new Mr. Linky: