Men's Monday Meme - Question 2
Mood:
happy
Topic: Men's Monday Meme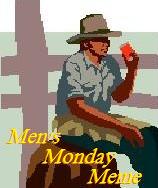 Well, I only got two posts for my first Men's Monday Meme (and one was mine

). But, a lot of people seemed really interested and some said that they just couldn't think of a tradition, but they would check back again next week. So, I am going to forge ahead and post question number two! Here it is -
What are your favorite things about the holiday season and your least favorite things?
Now surely everyone has a holiday favorite and least favorite. I'm hoping to get a few more responses. I'm sure as my meme gets more exposure there will be more that participate. For those of you who are interested, here are the rules:
This is a man's meme, so the answers must be the answers from a man. Either the man can answer on his blog, or a wife can interview her husband for her blog. However, if the wife puts it on her blog, she must stay true to what her husband said.
You are encouraged to put one of the Men's Monday Meme buttons found to the left on your blog. Just copy the code below the button of your choice. The more folks who link, the more readers you may have to visit your blog.
You may answer the question any time during the week up through next Monday. After you answered the question, add the address to your post to the Mr.Linky below. If you could, please only add the direct link to the post to make it easier for readers to find the entry.
My answer along with a new question will be posted next Monday. The new Mr. Linky will be added at midnight Monday night.
And here is the new Mr. Linky: