Men's Monday Meme - My Answer
Mood:
a-ok
Topic: Men's Monday Meme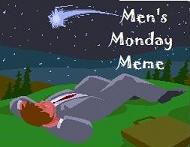 Drum Roll Please...rat-a-tat rat-a-tat rat-a-tat!
This is it - my answer to my first Men's Monday Meme question -
Is there a favorite holiday tradition that you had when you were young and would like to pass on to your children or grandchildren?
I really have two holiday traditions that we have always had. Let me start with the least important one. We have always had the tradition of opening the package that came from the farthest away on Christmas Eve. That usually was a package from one of my cousins that lived a few states away. We lived in Pennsylvania for most of my growing up years, and we would always get together at Grandpa Tinkel's house in Indiana for thanksgiving. All of the aunts, uncles and cousins would be there and that is where we would always draw names for Christmas gifts. The rule was that you couldn't draw a name of someone from your immediate family so that ruled out my brother or sister. So it was always someone from Indiana or maybe even from Texas (my dad's youngest brother and family lived there)! We usually had a big Christmas Eve service at our church, so it would happen after that. It was always a big and exciting night. We have family that lives all over the USA now, so it is still exciting for my kids to open up one on Christmas Eve. You never know where it's going to be from!
The second, more important tradition is that we always read the Christmas story from the Bible before opening gifts on Christmas 'Day. I love doing it, but it always brings a pang of sadness. My dad, "Pop Pop", was always the one that had that honor. Even after we were married, we made it home most Christmases and even when we couldn't, we always knew that Pop-Pop was somewhere reading the Christmas story usually from the Gospel of Luke. Pop-Pop died eight years ago but we carry on the tradition. It helps us to focus on what we are really celebrating at Christmas time - the birth of our Lord and Savior Jesus Christ. It really shouldn't bring me sadness, for I know that while we are merely reading about Jesus' birth, Pop-Pop is actually sitting at His feet and praising Him for the sacrifice that he made when He left His perfect home in Heaven to be born into this sinful world. All so that He could someday die for our sins. That is what we are truly celebrating at Christmas, and that is the main tradition that I want to pass down to my children.