A New Way of Eating Healthy! Sue Gregg!
Mood:
happy
Topic: Homeschool Product Review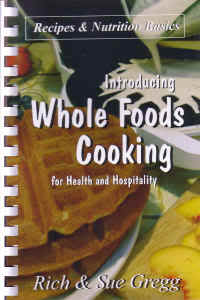 We have been so blessed with items this year on the TOS Homeschool Crew that have to do with a healthy lifestyle. When all is said and done, when I am finished with all of my reviews, I might write a big, final review that highlights all of these products. One of the main products that totally changed our eating habits for the better was the Sue Gregg Cookbook - Introducing Whole Foods Cooking for Health and Hospitality by Sue Gregg and her husband Rich.
Probably the main thing that I liked about Sue Gregg's way of eating was that she doesn't expect us to totally change our eating habits all at once. Sarah and I have tried other healthy lifestyle plans that asked us to totally clean out our cupboards, clear our refrigerators, throw away our cookbooks and start fresh with their eating plan...and sometimes their expensive products. Sue Gregg has no food products to buy, she suggests no expensive products, she doesn't expect us to clean out or throw away anything, she just wants us to, little by little, change some of our eating habits and change the way we cook our recipes.
Let me give you an example of what she suggests that we do. Say you make a recipe with two cups of sour cream. Sue suggests that you use two cups of plain yogurt as an alternative. Instead of using lots of salt, lets replace the salt with other, healthier, spices.
She also suggests different ways of doing things that are actually more healthy using most of the same things that you normally have around the house. Who ever heard if partially mixing up a batch of waffles in the blender, then putting the top on it and leaving it sitting on your counter overnight? Yuck

! Actually not yuck! It really is delicious and brings out more of the healthy nutrients.
Another great aspect of this cookbook (not really a cookbook but a healthy way of eating) is that she teaches you how to prepare foods to be used in a recipe. One example is the way she suggests cooking dry beans and peas before using them in a recipe in order to make the whole recipe healthier.
So you see, it's not changing your lifestyle, it's just making your lifestyle better. She explains the hows and the whys and, since she is a Christian, even the Biblical aspect of eating healthy. There are plenty of recipes, menus, and even a Bible study that involves food in the Bible - I love it!
She even includes a CD with all of the recipes in a step by step power point format with pictures (the power point viewer is even included!) and other gems like "Food Allergy Alternatives", "Grain Identification" for cooking with whole grains, and even how to make foods like "Almond Milk", and a "Flax-seed Egg Substitute". The extras aren't required to use the recipes in the book, but they are there for those who may want to take their healthy eating habits a step further.
I am going to reiterate again how much I love Introducing Whole Foods Cooking for Health and Hospitality. It has really changed our way of eating for the better. Because of all of the problems that our kids have been having, we haven't been able to actually use any of the recipes for a long time, but we constantly find ourselves eating healthier because we have learned to cook healthier.
I feel that "Whole Foods Cooking" is a must for anyone who wants to improve the way they eat. And it's a lot cheaper than some of those expensive eating plans. Not only do you not have to buy special food, you don't have to buy an expensive cookbook or plan. Her collection of cookbooks include Main Dishes, Meals in Minutes, Soups and Muffins, and Lunches and Snacks, among others. Introducing Whole Foods Cooking is the most expensive cookbook on her website at just $23.00.
Not totally convinced? I wasn't either at first. Her website is fantastic with a wealth of information on it's own. It has many of the same recipes and much of the same information as the cookbooks have. Obviously not all is there, but enough to whet your appetite. You can get to her website by clicking here or on any one of the hi-lighted links above. Sue is also more than happy to answer any questions that you might have. She corresponded with me by email many times and was very helpful. Many of the TOS Crew Members reviewed other books that she has to offer. To find out more about them, click here. Happy Eating!
As a member of the TOS Homeschool Crew I was sent a free copy of Sue Gregg's "Whole Food Cooking" to try out and review on my blog.