It's Time for this Week's TOS Homeschool Crew Blog Hop...err...Walk...or Whatever!
Mood:
a-ok
Topic: TOS Crew Blog Hop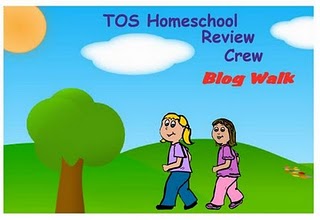 It's time for this week's TOS Crew Blog Walk again! Remember, the TOS Homeschool Crew is a group of top notch bloggers who have been chosen to receive, use and review homeschool products on their blogs. Each TOS Homeschool Crew member is very unique and there is a wide range of homeschooling families represented. Some crew members have a child with a mental or physical handicap, some homeschool one child, some homeschool many children, some homeschool some of their kids and send some of their kids to public or private schools, some are very eclectic in their homeschooling and some are very strict in the curriculum that they use. Click on the links below and see what makes that particular homeschool blogger unique. I'm sure you will find one that you can really relate to. Have fun!
1. Buckaroo Days
2. Our Homeschool Reviews
3. Reed, Party of 6
4. Training Hearts at Home
5. Along The Way
6. I Love Science!
7. Through the Calm and Through the Storm
8. Created for Home
9. Tractors and Tire Swings
10. Guiding Light Homeschool