The Curiosity Files - Zombie Fire Ants - Perfect for
Mood:
spacey
Topic: Homeschool Product Review
Let me give you all one quick caveat to this review. First, Joshua, the main one using this study, had the flu. Next, my sister called and said that my mom's health is failing quickly. Nothing to be unexpected, she is 88 years old (I think

) and has been in failing health for a couple of years. Still, it is not fun news. So, my brain is mush, however, I don't want to get behind on reviews, and, as you will read, I know enough about The Curiosity Files to be able to write an informed review. Besides, it keeps my mind busy. I will write an update, though, when Joshua gets feeling better and we can complete the study. Now for the review.
A few months ago a request went out to all of the TOS Homeschool Crew First Mates for proofreaders for a new type of Unit Study that TOS was putting together called The Curiosity Files. The name caught my attention and I'm always looking for things for my kids to use, so I decided to give my proofreading skills a try and sign up. One of the first responses that I got after signing up was something like "Oh good. Your boys will love them. These studies are really gross type studies perfect for gross loving boys!" However, I think that girls will love them as well. Just get ready for some gross stuff!
So far I've had the great pleasure of proofreading Cicada-Killing Wasps ~ yes there are some gross parts ~ and Platypus ~ not really gross but certainly curious ~ so you see, there really is something for everyone, even if you don't like the word "gross". Zombie Fire Ants is actually the first published, on the market, Curiosity Files study that I have been able to look at and use.
From the time I first began proofreading the Curiosity Files studies, I knew that they were something unique. The author of these great science unit studies is "Professor Ana Lyze". She has a "research team" that helps her and they specialize in science oddities. And, yes, Zombie Fire Ants are definitely some science oddities.
Originally from South America, Fire Ants hitched a ride on some ships importing products to the U.S. The only problem is, Fire Ants are not native to the United States. All of their natural predators are in South America, so they have been left to multiply freely and wreak havoc on the U.S. population. Scientists decided to experiment with bringing some of the Fire Ants natural enemies from South America to see if they would help control the U.S. Fire Ant population. South American phorid flies were imported and released near some Fire Ant colonies and soon thereafter Zombie Fire Ants were created. What are Zombie Fire Ants? You'll have to buy the study to find out!
I love The Curiosity Files science studies. Professor Ana Lyze seems to talk to you through the study and has a knack of knowing exactly what questions or comments might be crossing your mind. Take this little snippet of conversation from Zombie Fire Ants:
I get it—the ants are called zombies because they are just wandering aimlessly, unable to really think or do anything.

That's the idea. A fire ant slowly morphs from a hard-working part of an industrious colony to a mindless, wandering creature who signals to the rest of the ants that something isn't right. They really are zombies.

The zombie part is gross, but it seems a lot better than spraying chemicals on the mounds.

The phorid fly life cycle takes longer to see results but is very effective.
I don't think I revealed too much of the study in that little exert and you can see what an easy flow there is to the information given. It's like you are not really studying at all. That's the kind of Science study I have been longing for at our house.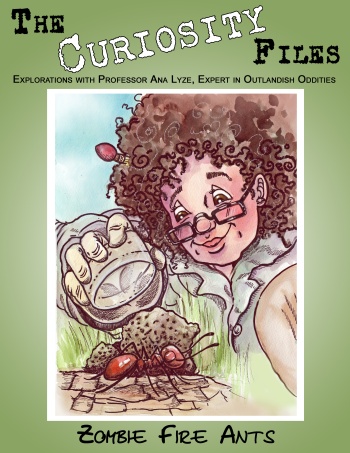 But that's not all.As parents aren't we always looking for "teachable moments"? You know, those moments where something happens and it is a perfect time to weave a life application into it. Well, that's exactly what
The Curiosity Files
do! After the initial information and a short "Let's see how much you've learned" section, there is a section that weaves what you have learned right into a Christian application! Remember, TOS (The Old Schoolhouse) is unashamedly a Christian company and you can trust that their materials will not be compromised by evolution or non-Christian thoughts. I love their Christian application section. It really ties science and what you are learning into why God created or allowed that particular thing and what it has to do with you. BUT THAT'S NOT ALL! The main attraction of a good unit study is the extra "hands on" things that are included. Well, let me tell you, there are plenty of hands on things in
Zombie Fire Ants
.How would you like to do one of the following?
Work on your math skills while studying Fire Ant Flight or having a Fire Ant Week?
Hone your writing skills by doing Zombie Writing?
Do puzzles to work on your Fire Ant spelling and vocabulary words?
Practice handwriting with special copy-work pages using special ant verses from the Bible.
Create and study an Ant Farm complete with a Fire Ant Journal?
Eat "Ants on a Log" or "Ants on the Sand"? Yes I said "EAT THEM"!
Create an "Egg Carton Ant" or learn how to draw an ant?
Those are just some of the dozens (yes I said dozens - I counted!) of activities that you will find in The Curiosity Files - Zombie Fire Ants. There is even a section where you can make your own Fire Ant mini book, an ant music section, a section where you can find books and websites about ants if you want to study more AND...get this...a special "Hands On Learning" section for special needs learners.We have loved this study so far, but as I mentioned above, we haven't been able to complete it all yet. As a matter of fact, by the looks of all of the things that I mentioned above, it may take weeks before we complete everything. Of course TOS has included so many things so that you can pick and choose what you feel would work best for your child. Many of the sections are conveniently divided into younger and older student sections.

This is all packed into a 91 page downloadable ebook that you can purchase from the TOS Store by clicking here or on any one of the hi-lighted sections above. The prices of the individual units vary so you would have to check the TOS Store website to find those. I can tell you, though, that there are nine studies currently available and you can buy a CD of all nine studies for $49 or a downloadable version of all nine studies for $46. If you would like to know about some of the other studies, many of my fellow TOS Crew members reviewed other Curiosity Files and you can check out what they had to say by clicking here. Happy Home Educating!

As a member of the TOS Homeschool Crew I was sent a free copy of The Curiosity Files unit study Zombie Fire Ants in order to try out and review on my blog.