Ever Dream of Being an Archaeologist?
Mood:
a-ok
Topic: Homeschool Product Review
I remember a friend of mine from my Florida Disney days. She was the neatest lady. She had one child, a daughter, and would make a homeschooler proud. Only she didn't homeschool! But she would do the neatest things with her daughter. One time she told me about a trip that they had made to an archeology site. You could actually go there and learn how to be an archaeologist. You could even dig! AND, it was in Florida. I had never heard of such a thing. I always dreamed of someday taking my children to such a place, but, alas, we moved to Tennessee and, as far as I know, there are no archeology sites close to us.
So my dreams of taking my kids on a dig had to be put on hold...until Roman Town came along! Roman Town, created by Dig It!, is a really cool game. After you apply and are accepted as a new archaeologist you are sent to an archaeological dig near the city of Pompeii in Italy. There you are welcomed by the professor who puts you right to work supervising a team of diggers. Do you give them one of the hand pics so that the work goes quickly but risk missing small pieces of artifacts or do you hand them a trowel, a tool more likely to find small pieces but is also very slow moving? After you have passed out the tools the work begins. When a worker finds something, he stops to allow you to do the fine work of actually digging up the artifact. Be careful! If you don't get there fast enough, the opportunity may pass and you'll lose out.
Once you dig up the artifact, the professor, along with the help of two mischievous Roman children who have miraculously survived thousands of years, will help you identify what you have found and tell you what it was used for. After all of your workers have found all there is to be found, you are sent to sort your finds. Are they pieces of pottery? Glass? Metal? Mosaic? You have to decide and put them where they go.
Then you are off to the Lab to analyze all of the artifacts. How do these artifacts compare to items of today? Have you recovered enough pieces to reconstruct the item? Do you know how to use it? Where in the room did it go? You will find out all of these things and more. You'll even find out how to play an ancient Roman game! Learn all you can about your finds - do the matching activities and word finds - because when you are done, you will be asked to complete a fill in the blank report telling how much you have learned. Then, your off to excavate another room that holds more fascinating artifacts and gives you a lot more fascinating activities to do.
The following video gives you a great idea of what Roman Town is like.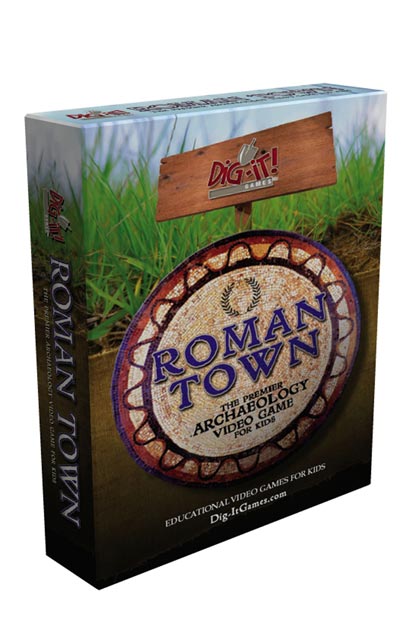 Roman Town is really a great game. John Allen and Joshua both enjoyed it, and I even loved playing it. Learning is a lot more fun when you are having...well...fun! The creator of this game is Suzi Wilczynski an actual archaeologist. She has done a fantastic job of making it realistic and mind challenging, but also very enjoyable. It is geared toward children in 5th - 8th grades, but, as I said, my second grade asperger's syndrome child loved it and his old geezer father did as well! So, as the company says, kids from 8-88 years old enjoy playing it.
Roman Town usually sells for $39.95 and comes in CD form from the company. The system requirements are as follows:
System Requirements
• Windows Vista/XP/2000
• CPU 800 Mhz; RAM 412MB; Hard Drive 350MB
You can find out more about this great company by clicking here or on any one of the links above. BUT WAIT! That's not all! From now until February 21, 2011, if you use the coupon code TOS2011 you will get a great discounted price of only $19.96! That's half of the regular price! I'm here to tell you that this game is well worth it. Also available to buy is a downloadable Educator's Manuel for you home educators that may want to expand Roman Town into a whole unit of study. The cost for the Educator's Manuel is just $19.95.
As always, a whole group of TOS Homeschool Crew members evaluated this product and you can find their reviews by clicking here. Happy Home Educating!
As a member of the TOS Homeschool Crew I was given a free download of this product (sold as a physical product not a download) in order to try out and review on my blog.