Sarah Was Gone Again Today
Mood:
lazy
Topic: Ministry
Sarah was gone again today. She's been gone a lot lately. Let's recount the past week or so.
Last Thursday she rearranged the boy's therapies so that she could take one of her ladies, "G", to the courthouse in the next county to see her daughter in court. It seems that G's daughter had violated her probation and G went to see if she could do anything to help. G, by the way, is 67, has outlived two husbands, and is one of the hardest workers that I know. You can regularly see her at 4am walking the streets in the project (low income housing area) and picking up the trash. Yes I said 4am! Then, during the day, she volunteers her time to help the maintenance men clean and fix up the apartments after someone has moved out. G offered to pay for lunch, but Sarah wouldn't take her money. Instead, Sarah treated.
Sunday, of course, is Mission day. Sarah is over at the mission early to spiff up and begin the meal that she is going to serve the folks who come that day. She has her computer with her so that she can study her lesson that day. She spends time greeting the people as they come - sometimes a half hour early just to talk. She is still smiling and greeting as I run with the van picking up folks that need a ride. After the meal, I take the kids and Sarah teaches the ladies. She loses track of time and ends up being late to help with the youth at our church. That evening she tells me that she doesn't even know what she said. It just seems like the Holy Spirit took over.
Tuesday afternoon she's out with some of her ladies again. Helping them run errands and doing some shopping for the mission. That afternoon we have Bible Club and, of course, another meal. Sarah is once again in the kitchen cooking. Bible Club went great, and so did the meal.
Yesterday she mentioned that she loved her ladies but was glad nothing was planned for the day. This morning she gets up and she and the boys attend the Thursday morning Bible study that they have been going to for the past few years. It has a fantastic homeschool group that the boys love. When she finally gets home and props her feet up she gets a phone call. I hear her say "Give me about 40 minutes and I'll be there." It seems that another one of her ladies, "L", was in tears. She had taken out a loan and, when she went to pay on it, the people wouldn't take her payment. Sarah went with her to the loan office to find out what was going on. She was able to explain to L and they got everything taken care of.
Tomorrow, after she takes the kids to therapy in the morning, she's taking "A" into Cookeville. A doesn't have a car and her daughter has a birthday coming up so she's taking her shopping.
So, Sarah will be gone again tomorrow. She's been gone a lot lately. Thank you, Lord, for my wife, Sarah.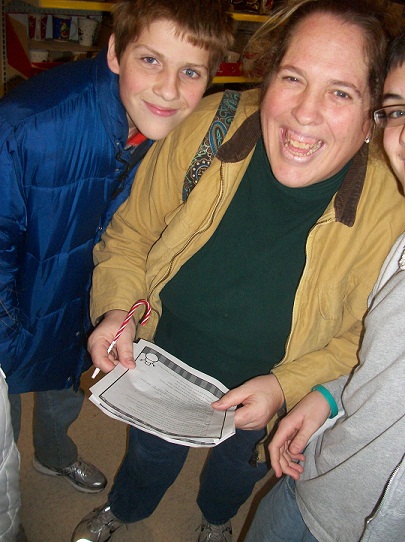 Sarah and John Allen at a recent youth event.