Introduction to Marketing...John Allen Just Got A Real Eye Opener
Mood:
caffeinated
Topic: Homeschool Product Review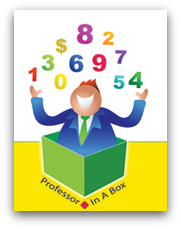 For a couple of years, now, John Allen has been toying around with how to make some money. For the past two years we have been blessed with receiving some really neat computer programming courses to review. The review items have ranged from DVD's on how to build a website to complete courses on how to create really neat computer games. John Allen has loved all of them! For some time he has been dreaming of different wholesome computer games he could create and sell to homeschool and other kids. The only thing he lacked was the knowledge of how to promote his games and get them on the market. So, when we found out we were going to get Professor in a Box's Principles of Marketing course by Dr. Julie Pirsch we were thrilled.
The shocker set in after we began watching the first lesson. Who would have thought what goes into marketing something? Of course, if you are someone that works in that field or who has tried to market your own business, you know what all goes into it, but we had no idea.
Do any of these terms ring a bell?
Exchange
Production Orientation
Value Proposition
These are all terms used in just the first chapter! Want to know what they mean? You'll have to watch the lesson to find out!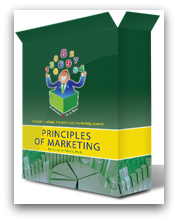 There are 19 chapters in the course, but, don't worry, they are divided into 28 bite size lessons. I say bite size because you could easily watch and do a lesson a day. I wouldn't recommend it, however. Although each lecture is fairly short (I haven't encountered one yet that is more than 30 min. long), the lectures are packed with information that students need to digest.
Each lecture is very well done. You never see the teacher, but hear her pleasant voice while she is explaining the power point slides that you see on your screen. She does an excellent job of explaining things, but, like anything that someone is new at, it may take a little thinking on things in order for them to sink in.
Each lesson also comes with online resources. Those, in my opinion, are some of the funnest things about this course. Each lesson's list of resources has to do with the topic discussed in that lesson's lecture. Never fear, however. These aren't dry boring academic websites that just reiterate what the teacher says. There are links to the websites of popular companies like Disney and Apple, but there are also links to out of the way sites that have interesting ways of marketing things. For example, did you know that...
There is a company that lets you customize a soda bottle and put your own picture on it?
There's a neat site where you can plug in your zip code and find out what the marketing demographics are for your town or neighborhood? (My town has these segments living in them - "Back Country Folks", "Bedrock America", Crossroads Villagers", "Golden Ponds", and "Shotguns & Pickups"!)
There's a whole website devoted to promotional codes that you can use online to purchase things at a discount?
It's really neat seeing the different ways that companies market there products. And, I may have found a Christmas gift or two in the process (shhh...don't tell the wife or kids).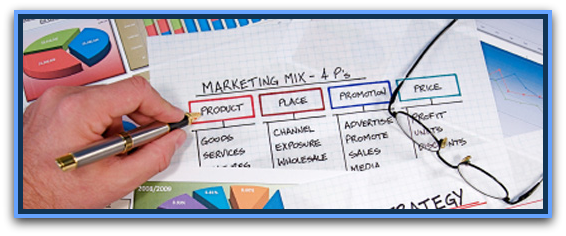 Each lesson from Principles of Marketing also has a summary of key concepts and a multiple choice quiz to take. So, as I mentioned above, you could do a whole lesson in one day, but, I wouldn't recommend it. A lesson a week, or at least every couple of days, would be a good pace.
Oh, and here's one of the best parts about it. All of this is packed into one little CD. No heavy books or manuals. Just one little CD. I was just a little disappointed that it didn't come in a box, though. After all, it is called "Professor in a BOX"!


We have really enjoyed this course. It has been fun but challenging. This is one that we will continue on with even after this review is done. One word of warning, though. Although it is well done, broken down into bite size pieces, and the resources are just plain interesting and fun, this is still a college level course. A highschooler can do it, but it is not a breeze. Thankfully they allow you to take the quizzes over again until you get a passing grade. John Allen took three tries just to pass the quiz for lesson one. He is just in the early months of his freshman year of high school, though. A student that is a Junior or Senior would probably have a much easier time.
So, want to know more about Principles of Marketing? Just click here or on any of the websites above to find out how to purchase this course and other great courses from Professor in a Box. They'll even let you try out the first lesson and check out the neat online resources for free. Principles of Marketing retails for $119.99 with free shipping, and, I think, it is well worth it. Try it out to see for yourself.
As usual, some of the other great TOS Homeschool Crew members reviewed this product as well and you can find out what they had to say by clicking here. Happy Home Educating!
As a member of the TOS Homeschool Crew I was given a free copy of Homeschool in a Box's Principles of Marketing course to try out and give my honest review on this blog.