Before Five in a Row
Mood:
a-ok
Topic: Homeschool Product Review

I have said this before, but it's worth repeating again - our family loves to read. And we love to read together. I treasure the times when one of my children snuggles up to me while I read to them. Well, at 15 years old, John Allen doesn't snuggle so much anymore, but you know what I mean. Even after my children get older, we enjoy good books together. Just recently we laughed and appreciated Rudyard Kipling's Just So Stories as a family.
Reading is very important to us. That's why I was excited when I found out that we would be receiving Before Five in a Row by Jane Claire Lambert. You've heard of the great Five in a Row, Beyond Five in a Row and Above and Beyond Five in a Row series haven't you? They use great books and develop unit studies around them. The unit studies almost always contain a social studies/history, science and literature section and quite often also include spelling, grammar and math elements as well.
Before Five in a Row (BFIAR) includes the great children's books and sections to introduce different areas of academics, but that is about as far as the similarities go. Since BFIAR was written to be used with children ages 2-4 the author suggests not focusing on the academics. Those will come. Instead, focus on enjoying time with your children and teach them to love books. If the opportunity comes to "lay a foundation" in an academic area, or if the child shows an interest in something then...great...introduce it. But, the main emphasis should be on, what I mentioned as one of my favorite things, cuddling and reading with your child.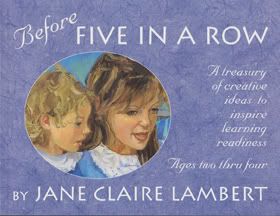 And BFIAR suggests a lot of great books to do just that - enjoy reading with your children. Some of the books were familiar to me, such as Goodnight Moon, by Margaret Wise Brown, and Corduroy, by Don Freeman. Others weren't as familiar, like Blueberries For Sal, by Robert McCloskey and The Quiet Way Home, by Bonny Becker. There were even some Christian themed books included.
The suggested activities were also wonderful. Jacob loved reading Jesse Bear, What Will You Wear? and learning about rhyming (language development), relationships (social studies) and poetry (literature). Jacob next chose The Snowy Day and we discussed snow (science), and growing up. We loved taking about a week on each story and discussing a new aspect of it every day. There are even lap book and other activities that can be purchased to go along with many of the books. Believe me, though, Before Five in a Row is chalk full of activity suggestions for each story. Remember, however, that it's okay just to sit with your child and enjoy reading the book together even if you don't do any of the activities.
BUT, the suggested books and activities are only half of BFIAR. Part two is a whole section titled "Parent's Treasury of Creative Ideas for Learning Readiness". It includes ideas on Activities for Reading Readiness, Coordination, Development of Large and Small Motor Skills, Activities for Bath Time, Activities in the Kitchen, Activities at the Store and more! It's a treasure trove of information and ideas.
Although I have seen the Five in a Row series before, this was my first exposure to really using one of their products and I have become a new fan! You can find out all about their books by clicking here or on any one of the hi-lighted links above. There you can find sample pages to download for each of their books so that you can see how wonderful they are before purchasing. BFIAR also has "digital resources" and "Fold-and-Learn" items that you can purchase. The book that I reviewed has a suggested retail price of $24.95 and is, in my opinion, well worth it.
Don't forget to also check out what the other TOS Homeschool Crew reviewers thought about this product by clicking here. Happy Home Educating!
As a member of the TOS Homeschool Crew I was given a free copy of Before Five In a Row to try out and give an honest review on this blog.