Pig-Pile! A Game Like No Other!
Mood:
happy
Topic: Homeschool Product Review

So, what's all this hog talk been about lately? Why, Pig-Pile from R&R games of course! Last year we were blessed to review a couple of games with the TOS Homeschool Crew, but this year we are in game heaven! We have gotten quite a few games to try out and Pig-Pile is by far the best family card game we have played yet!
When I found out that I was going to review a game called Pig-Pile, I was a bit unconvinced that this was going to be something that my boys would like. It wasn't the name, mind you. My boys have been known to be pigs and to pile onto one another. My kids just aren't big game players. Unless, of course, your talking about Wi, XBox, or Playstation games. But, when we opened the package and saw the colorful box, we became intrigued. THEN we opened the box and saw the pigs...yes I said PIGS...inside. No! Not real pigs! Small plastic pigs that have a lot to do with the game. Let me explain a little bit about how to play first. Then maybe you'll understand.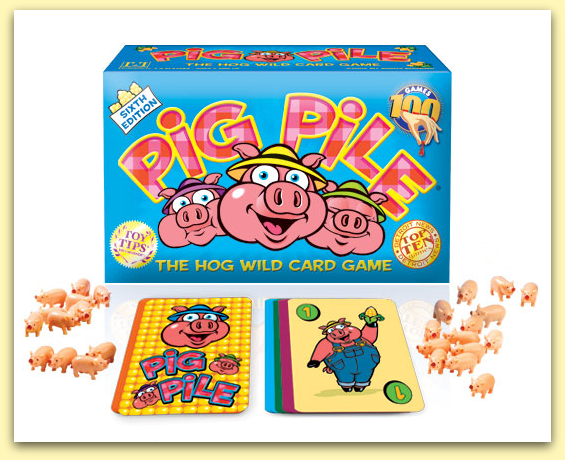 The rules for Pig-Pile are really quite simple. You try to get rid of all of your cards and collect as many pigs as you can. Everyone is dealt four cards for their hand and, in front of them, three cards face down and three cards face up on top of the three cards face down. The cards in front of them are called their "slop" piles. No, I'm not joking, it really is called the "slop" pile. The cards have the numbers one through twelve on them, except for the "Hog Wild" cards, of course. Some of the cards also have some extra things on them that I will explain in a moment. After the cards are dealt the dealer starts by playing any of the four cards in his hand to the "Pig Pile" and draws another card from the draw pile. The next person has to either match that card or lay a card with a higher number. If someone can't play a card and and doesn't have a "Hog Wild" card, then he has to pick up all of the cards in the "Pig Pile" and the pile resets itself to zero. Of course if someone plays one of those special cards - "Hog Tied", "Hog Wash", or "Ewe Turn", then it could really whopperjaw the whole game! There are some other special plays that folks can make but I won't divulge what there are now. You'll have to buy the game to find out. Let's just suffice it to say that there's never a dull moment with Pig-Pile!
When someone finally gets rid of all of the cards in their hand and in their slop, then they are the winner of that round and are presented with three of those cute little pigs. The game continues and second place gets two of those cute things and third place gets one piggy. You either play a set number of rounds and then count up your pigs to see who won, or you play until someone gets to a certain amount of pigs. Then they win the whole kit and kaboodle!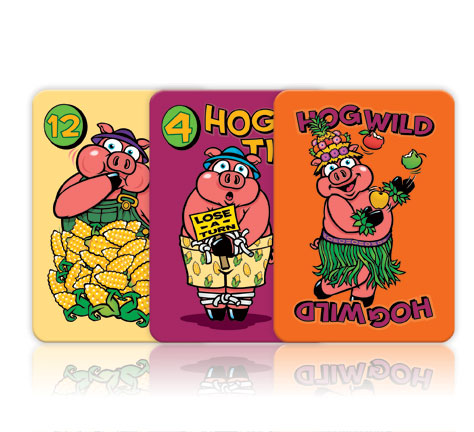 My kids are loving it (actually we all are) and are learning a thing or two. Jacob is learning his numbers. Joshua is reviewing more and less. And the family is just plain old having fun! It's a real winner with us. Since we got it, our whole house has just been squealing with excitement! (Okay! I know! That was bad!).
Now I have something that's going to make you all squeal with excitement. Pig-Pile usually sells for $15.95, but R&R Games has given us a special promo code that you can use until the end of the year. It's for 20% off! Just put the code - CREW20 - in when they call for it during checkout! You can get to their great site by clicking here or on any one of the hi-lighted links above. There were a bunch of TOS Crew members that got to review Pig-Pile but there were a bunch that got to review another R&R game called "Flea Circus". Click here to get to the TOS Crew blog to find out what the rest of the crew had to say about these fun games.
Games like this really fit in with the whole reason that I began this blog - to bring households back together so that they can be "Families Again". So, I'm going to close this review by saying - Happy Family Game Playing!
PS. My kids weren't acting like pigs today, they were acting like little monsters. Must be the rain. It was not a good picture taking day so Pig-Pile game playing pictures aren't quite here yet. Maybe tomorrow. Check back and see!
As a member of the TOS Homeschool Crew I was sent the card game Pig-Pile for free in order to play at home and give my honest review on this blog.