Both Sides Now - Thoughts on Vancouver's Opening Ceremonies
Mood:
happy
Topic: General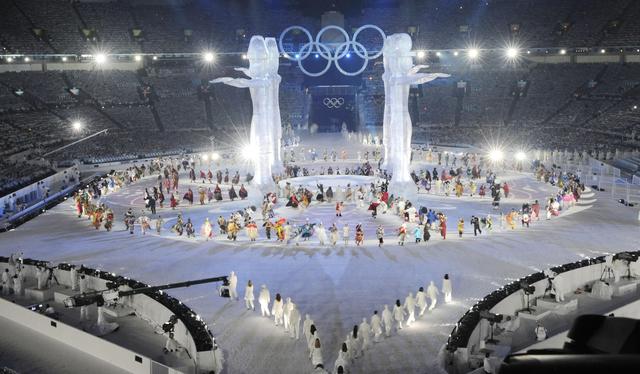 I get into funks every now and again. A funk for me is when I see somthing that I'm really taken aback by and think about it for too long. This latest funk was caused by the Olympic Opening Ceremonies the other night. I'm a big Olympic fan. Especially the Winter Olympics, but really both summer and winter. I love watching them. I love the sports; I love the coming together of the whole world to set aside differences for a little while to compete; and, I love the opening and closing ceremonies.
I thought the whole opening ceremony was great, but one particular part of it is what has created this deep reflection. It was the part of the program where they were featuring different parts of Canada and came to the Canadian Praries, entitled "Who Has Seen the Wind" taken from W O Mitchells book by the same title. From the beginning of the segment with a short reading from the novel to the great performance by the young aerialist Thomas Saulgrain, to the haunting song, Both Sides Now, sung by its composer Joni Mitchell. All of it really touched me.
I have spent the past three days trying to figure out what it was that made me react this way. Was it the passage from the book that was quoted? Was it the young innocent like performance of the acrobat? Was it the lyrics and vocals of the song? After some deep thought and reflection, I've come to the conclusion that it is all of the above.
In a way, the whole performance was a reflection of my Christian walk and how I view life. Life now, and life in my future home, Heaven. I grew up in the mountains of Pennsylvania, but, although they were mountains, really they weren't that much different from the prairies. They are both special places. I remember walking home on a breezy day with the wind blowing against my face. I recall warm summer days and the sun beating down on my head. I used to sit outside, summer or winter, and reflect on people, things and life. I would ride my sled down our hill on a snowy day and then just sit and think. In the summer I would walk in the woods and explore and just enjoy being by myself. I guess I was a lot like the boy in W O Mitchell's story. With much thinking and reflecting, "I guess I learned at a very young age that I was mortal".
I was a strange boy. Even at a young age I thought about life, my future, even Heaven. I used to lay awake and think about what Heaven would be like. I would imagine myself floating on a cloud or freely skating like an ice skater - not a care in the world, just peaceful bliss. I guess that's why I felt connected to that boy flying in the opening ceremonies - innocent, carefree, nothing to hold me back. That's what Heaven will be like. Not a worry; not a care; not a tear in our eyes. Just days, months, years, an eternity of peaceful, carefree, praising of Jesus. Just like young Thomas Saulgrain we'll be able to fly and do cartwheels and be free. Oh! For the day to come!
Until it comes, however, we must stay here on earth. We must deal with our lives. Deal with the people. Deal with the work and the lives that God has given us. Not our jobs, but the real purpose that God has for us in this world. Like the words in Joni Mitchell's song, the more I go through life, the more I realize that I don't really know life. The more I learn, the more I realize how much I have to learn. The more I see clouds and love and life, even when I think that I've seen them from both sides, the more I realize that I don't understand them. The more I have to lean on God, and His Word, and His example. The more I realize that without Him I am nothing. The more I realize that I have to allow Him to take over my life from within,
I remember when personality tests were the big thing. Were you Sanguine? Choleric? Phlegmatic? Meloncholy? I always tested out being a Sanguine but I now think that I am Meloncholy. Being a Meloncholy brings to mind a down, depressed type person, but Meloncholy doesn't really mean that. It really means being an analytical deep thinker. One who ponders and thinks things through. Being a Meloncholy has helped me to realize that if I allow God to take over, then I can really fly. I don't have to wait for Heaven to be peaceful and carefree. I can be at peace now...but, only if I come to God like an innocent child. Only if I let go of my desires and problems, and let Him take over. Then, and only then, can I truly be lifted up and over my circumstances and really fly.
If you missed the opening ceremonies, here's a link to what they call the "Cultural" part. All of the sections are good, and I encourage you to watch them, but if you want to skip to "Who Has Seen the Wind", you can find it at 28:45 minutes on the video. While your watching and listening to that section, think about what life is like in Heaven and what life can be like on earth. Joni Mitchell does a beautiful job of singing the song, and Thomas Saulgrain does a magnificent job of interpreting it. Although it would be nice to think that they are both Christians, there is a good possibility that they aren't. It's a good reminder that God can use all things to His glory - even a secular song and performance. I'll be praying that both Thomas and Joni will someday be able to experience true freedom in Christ and be able to forever be carefree and fly with Him.