My Relative - Ben Franklin!
Mood:
incredulous
Topic: Homeschool Product Review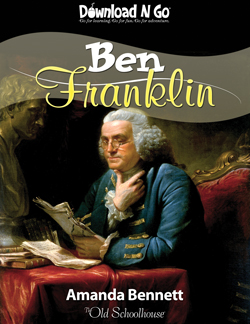 Yep, it's true! I heard from my cousin a couple of months ago. She's really big into genealogy and stuff like that. I dabble in trying to follow my family tree, but that's about the extent of it, but Brenda is really into it. Well, she announced that somehow we are related to Ben Franklin. I don't know how yet. I need to write to her and ask if she could send a copy of her research to me, but, sure enough, that's what she says and I believe her.
So, because of that, I jumped at the chance to review Download-N-Go's new Ben Franklin unit study and learn more about our new cousin. And boy did we learn. Joshua, of course, loves Amanda Bennett's Download-N-Go (DNG) studies, and this one was no exception. This was, though, the first real "history" unit study from DNG that we had done. The others were either science, or just plain fun studies. Now, those have a little of history in them, but this one was all history and we really enjoyed it.
This week long unit study covers everything you can think of about Ben Franklin. His childhood, what lead to his career choices, his home life, his political life, his inventions...I'm telling you it covers everything! But, as usual, Amanda Bennett has managed to make everything go together seamlessly and you don't even realize how much you are learning through the great Youtube clips, websites, worksheets and puzzles that she has you doing each day. This Ben Franklin unit study is a classic example of why I love Amanda Bennett's Download-N-Go series of studies.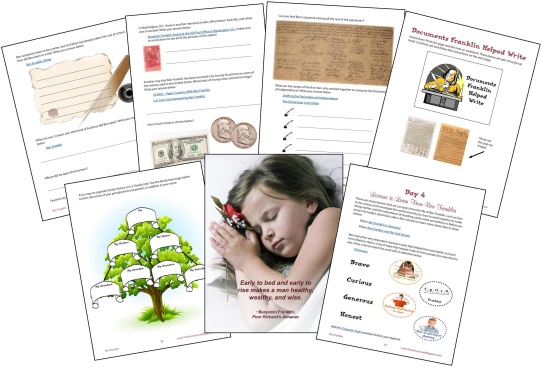 Here are just some of the things that you will learn during this five day study:
Day 1: Who Was Ben Franklin?
Day 2: People and Places in Ben Franklin's Life
Day 3: The Accomplishments of Ben Franklin
Day 4: Lessons to Learn From Ben Franklin
Day 5: Remembering Ben Franklin
Each day is packed full of activities that cover every subject. You could literally use this study, as well as any of the Download-N-Go unit studies as a stand alone curriculum for you k-4th grader and not use anything else if you wanted. At least for the younger grades.
And this study includes the Book Suggestions section with books that fit all reading levels, the lapbook section, and the Fun Family Ideas section at the end.
Now, here's the best part. Usually the Download-N-Go studies are $7.95, but, for a limited time only, Ben Franklin is only $6.25! To purchase this study or to learn more about it, click here or on any one of the hi-lighted links above. To find out more about this great line of Amanda Bennett studies, click here. And, last but not least, to find out what the other great Download-N-Go reviewers thought about this study, click here. Happy Home Educating.
As a member of The Old Schoolhouse's Download-N-Go review team I was given a free copy of Ben Franklin in order to try out and review on my blog.