Finally The Big Bathroom Bowl Giveaway!
Mood:
celebratory
Topic: Giveaways!
I know! I know! I was supposed to have this posted yesterday, but...I did just write about taking some time off, and, since I am just getting over a cold, I decided that yesterday should be one of those days.
I remember Thanksgivings when I was younger. We would always go to Grandpa Tinkel's house in Indiana where all of the Tinkel family would meet for the holiday. We would have an early Thanksgiving meal with my mom's side of the family and Mom would make leftover turkey sandwiches to eat on the 10 hour drive from Pennsylvania to Indiana. I have sweet memories of sitting in the backseat eating those delicious sandwiches, smelling Dad's black coffee and watching the site's whiz by.
That always marked the beginning of the holidays - Christmas shopping, baking, decorating, and, of course, the college football bowl games. We loved football at our house. No, love is not a strong enough word. We were passionate about football at our house. We had our favorite teams. Penn State was at the top, of course, but also Notre Dame, since Dad was from Indiana. Many a happy time resulted from a win, and many yells at the T.V. came when our teams were losing.
Yells at the T.V. were the extent of the physical action that emitted from the Tinkels, however. We were mostly couch potatoes when it came to football. Oh, I played football with my friends, and was on a grade school flag football team for two games... before the coach quit. But that's a story for another time. Anyway, anything beyond that was non-existent when it came to actually playing football when I was younger.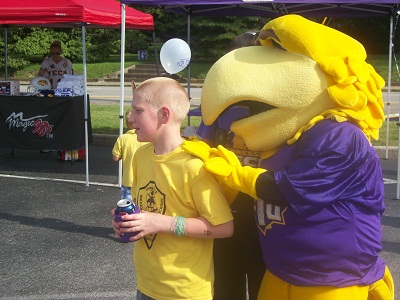 Joshua being teased by Tennessee Tech's eagle mascot.
Now days, of course, it's a lot different. Both John Allen and Joshua have played Upwards flag football and loved it. John Allen aged out two seasons ago, but Joshua is still playing and Jacob is even talking about playing next year. And, of course, we still watch a lot of football on T.V. The Fighting Irish and Nittany Lions are still at the top of my list, but, the University of Tennessee Volunteers are now right up there with them.
Joshua is probably our biggest football fan. He lives and breaths football. He plays flag football. He plays football on his Play Station. He watches football on T.V.. He practices in the yard and makes up his own plays. He has even made his own referee flags and knows all of the referee hand signals. Just this evening he was all dressed up in his football garb complete with helmet, jersey and wrist band with all of his plays written on it.
Joshua's enthusiasm for football was what led me to sign up for this great giveaway. It's called the...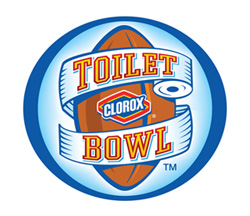 Yep, you are reading right! It's actually the Clorox Toilet Bowl contest and giveaway!
First the contest. How many of you have been unlike the Tinkel clan and had your own Thanksgiving Day, Christmas Day or even maybe New Year's Day family football game? How many of you would like to start that tradition? Well, Clorox is having a great contest this year that will help you do just that. Two lucky families are going to be chosen to take nine people (yes I said nine!) on a three day, two night vacation to New Orleans! That's not all, though. While in Louisiana, they will have the opportunity to play in a family flag football game with non-other than former NFL quarterback and now ESPN analyst, Jesse Palmer, to be your team's quarterback for the game! I'm planning on entering myself. Can you imagine Joshua's face if we win?
It's real easy to enter, but it involves a little more than just entering your name. You have to do things like describe your family football tradition in 100 words or less, upload a photo of your family, pick a mascot and colors and stuff like that. After you enter all of the information, Clorox will pick eight semi-finalists to be voted on by the public. Then, the two finalists will be announced and you're on your way to New Orleans for a show down at the "Clorox Toilet Bowl" to be held on January 13, 2011! Wouldn't it be cool if someone that entered because of reading this blog won? Please let me know if any you entered. All of the official information can be found by clicking here - http://www.facebook.com/odetothecommode .
Okay, now for the giveaway! In honor of this years "Clorox Toilet Bowl", I'm giving away a Clorox Toilet Wand - you know, one of those cool toilet bowl cleaning wands with the disposable cleaning head - and an official branded "Clorox Toilet Bowl" football! So, even if you can't go to the big game on January 13, you can still use the football to have a big game of your own, and use the wand to have a clean bathroom for the halftime restroom traffic. Below is a list of ways to enter my giveaway. I'm going to draw the winner on Dec. 1, so you have almost two weeks to enter. May the best team...err...I mean person win!
1. Check out the "Clorox Toilet Bowl" website and tell me why you would like to win my giveaway or the big contest if you decide to enter it - don't worry, it doesn't have to be 100 words long!

(worth one entry).
2. Subscribe to my blog by clicking on the subscribe button at the end of this post and then leave a comment saying that you did (worth one entry).
3. Subscribe to my blog by clicking on the Networked blog button or the Google friend requests in the left column and then leave a comment saying that you did (worth two total entries - one entry for each).
4. Become a fan on my Families Again Facebook page by clicking here and then leave a comment saying that you did (worth one entry).
5. Follow me in Twitter by clicking here and then leave a comment saying that you did (worth one entry).
6. Twitter about this give-away and leave a comment with a link to the post(s) (worth one entry per day. Must make a separate comment each day).
7. Blog about this give-away and leave three comments with a link to the post (worth 3 entries).
I wrote this review while participating in a blog tour campaign by Dad Central Consulting on behalf of Clorox and received a gift code, toilet wand and football to thank me for taking the time to participate.