Our Latest Homeschooling Adventure - Complete with Pictures!
Mood:
lazy
Topic: Homeschool Product Review
I've written before that one of my favorite memories was going on vacations and traveling with my family. We often went to historical places like Gettysburg or Williamsburg, VA. I always loved learning about hour our early settlers lived and did things. Also as a youngster I enjoyed going to camp. And, you guessed it, craft times were one of my favorite periods of the camp week.
Imagine my surprise and great excitement when I found out that we were getting a historical craft kit from Corps of Re-Discovery. The Corps of Re-Discovery is a company that specializes in project kits and books to "encourage you to Re-Discover America, Yesterday and Today".
The Tinkel clan was chosen to receive a laced leather coin pouch ~ similar to what one would make at a boy scout camp ~ and I immediately though of Joshua. Not only does Joshua love making things, but we are also beginning or study of United States history this year and this craft would fit right in. Joshua loved the idea and jumped write in.
Finally the package arrived and upon opening it we found a neat little package of leather and black lace along with simple instructions. After a brief orientation as to how to lace (no needle required), Joshua was on his way. He loved it and sat quietly doing it until his fingers got tired and he had to take a break. Now, this is my ADHD/asperger's syndrome child we're talking about! Check out the pictures below.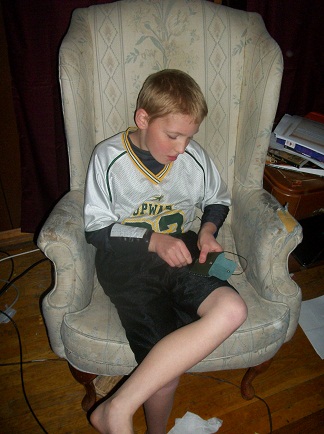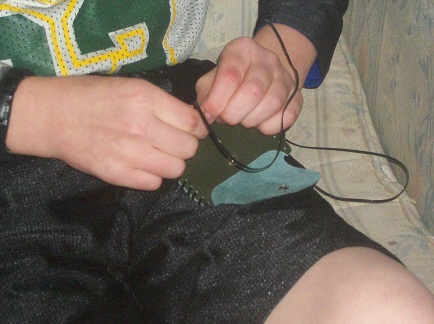 Notice the ever present football jersey and wrist band complete with plays written on it. That's really a story for another post, but that just goes to show you how entranced he was by this. He did need a little help with the beginning and ending and brother John Allen took a turn a lacing a few to get the feel of it, but otherwise Joshua did it all himself. And it turned out to be a very nice coin pouch. Take a look.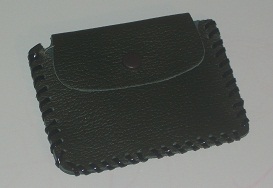 The above picture is Joshua's actual finished coin pouch, not something from the Corps of Re-Discovery website.
I am really impressed with this company. I really wished I would have known about it when John Allen was going through United States history. Many times, homeschool curriculum will have suggestions for crafts to go along with the historical era that you are studying, but, ugh, it is always a pain to plan them out and find all of the stuff. Corps of Re-Discovery has kits for almost every U.S. historical time period for a myriad of different items. Some of the other kits that they have are for corn husk dolls, tomahawks, moccasins, coon skin caps, quilting. And that's just a small sample of what they have. They have grouped some of their best selling items into kits such as the American Indian Kit, Home Economics Kit and Frontier Craft Pack. They even have a Lewis and Clark kit complete with books and a study guide.
And, you would think that with the price of leather and other things the prices would be expensive. Not so! The Leather Coin Pouch kit that Joshua made was only$4.99! Their group kits are very cheap as well. I am definitely going to remember this company.
For more information on the Corps of Re-Discovery you can click here or on any one of the hi-lighted links above. Many of the other crew members on the TOS Homeschool Crew received other items from Corps of Re-Discovery to review and you can check them out by clicking here. Happy Homeschooling!
As a member of the TOS Homeschool Crew I was sent a free Coin Pouch Kit from Corps of Re-Discovery in order to try out and review on my blog.